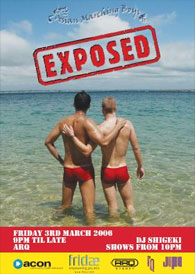 The music is ready. The routines are rehearsed. The costumes are hot. It's now only days until Asian Marching Boys hits the stage for EXPOSED - the official Mardi Gras preview party.
Miss Sara Lee and the Asian Marching Boys Community Dancers will burn the stage in a series of shows, in which you'll see the moves, costumes and music for which AMB is awarded and renowned. You'll also get to preview what the rest of the world won't see until Mardi Gras Parade, i.e. AMB's Mardi Gras costumes, choreography and music.
Historically, EXPOSED is sold out early, so bring your partner, friends and family and join us for a night of fun, entertainment and dancing, with music provided by the internationally acclaimed DJ Shigeke. On Sat 4 March, see AMB in the Mardi Gras Parade and scream your support for the entire community.
Venue: ARQ Sydney
Date: Friday 3 March 2006
Time: Doors open 9pm, shows commence 10pm
Entry $10 before 11pm / $15 after 11pm. Tickets available at the door