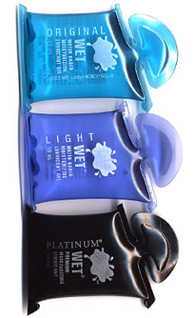 Condoms to lubes are like what tops are to bottoms. Fridae columnist Alvin Tan, soul-sista Zee and multi-orgasmic lesbian, Venusa review Wet Light, Wet Platinum, Boi Toyz anal lube, Astroglide and pjur, to find out which lubes deliver what is promised. (Don't forget to read the accompanying condom review here.)

Venusa, a 20-something, female (but of course), sparkling gorgeous queer femme chick, multi-orgasmic pillow queen who likes to be on top (or in front, or behind) occasionally.

Alvin "Sexpert" Tan, 22 (lie detector alert!), who pens the monthly Ask Alvin column and insists on being written up as a "pure top" for this review.

Zee, 30ish, bottom, occasional movie review and editor of Fridae's Movie Club newsletter.

Go on to the reviews.

Products are provided by U4ria. Fridae readers will enjoy a 10% discount at U4Ria located at 111 North Bridge Road, #04-53, Peninsula Plaza, Singapore.