Asia's leading gay website Fridae.com will launch the 2010 Asia Internet MSM Sex Survey (AIMSS) on January 1, 2010.
Offered simultaneously in English, Simplified and Traditional Chinese, Cantonese, Japanese, Thai, Tagalog, Hindi, Melayu (Bahasa Malaysia) and Indonesian (Bahasa Indonesia), the the 2010 Asia Internet MSM Sex Survey (AIMSS) is expected to be the largest and most comprehensive pan-Asian Internet surveys of MSM and TG.
[MSM (men who have sex with men) is an inclusive public health term used to describe sexual behaviours, regardless of sexual orientation and gender identity; and includes self-identified gay, bisexual, or heterosexual men, as well as transgendered people (TG).]
The 140-question survey will focus on sexual and social behaviour of MSM and will query respondents about their HIV testing history, knowledge and attitudes towards HIV, drug and alcohol use, and travel history. It will take about 10 minutes to finish, and is completely anonymous and confidential. The information gathered will be used to design and improve the programs and interventions to reduce HIV and STI transmission among MSM and TG Internet users.
"With broadband Internet penetration growing exponentially throughout Asia, more gay men are citing the Internet as the most common 'venue' through which to meet other men," said Dr Stuart Koe, principal investigator of the 2010 AIMSS. Dr Koe is also the founder and CEO of Fridae.com.
"By offering AIMSS in different Asian languages, we hope to have a much deeper understanding of the social contexts and sexual behaviours of gays on the Internet, especially non-English speaking ones, which in turn gives us the much needed strategic intelligence to address the rapidly rising HIV infections in this demographic population."
AIMSS is a community-initiated study primarily self-funded by Fridae.com, with partial supporting funds from the Hong Kong Department of Health. Logistics and marketing support is being provided by a coalition of community partners including community based organisations, academic researchers, and gay-friendly business owners in major cities across Asia.
In 2009, a similar survey conducted by Fridae (in English) attracted almost 8,000 respondents majority of whom live in Singapore, Malaysia, USA, Australia, Hong Kong, Thailand and China. The 2009 MSM Sex Survey Final Report which was released to the public on Dec 24, 2009 can be downloaded from http://www.msmsexsurvey.com/report.pdf. Key findings and conclusions are attached below.)
The 2010 Asia Internet MSM Sex Survey will run from Jan 1-Feb 28, 2010.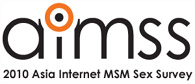 ---
Key findings and conclusions of the 2009 MSM Sex Survey
In March and April 2009, an English language survey was conducted online and marketed through a network of community partners across Asia. 7993 MSM and TG completed the questionnaire about demographics, risk behaviour, HIV testing and acceptance.
• Not all MSM and TG are at equal risk for HIV infection. Men who abstain from sex, do not have anal sex, or use a condom consistently with all their sex partners when they have anal sex are at little to no risk of being infected with HIV.
• Those most at immediate risk are the 21% of men who have unprotected sex with casual partners (1664 of 7993) and 3% with commercial partners (253 of 7993).
• Unprotected anal sex amongst men in regular relationships is high where 2 in 3 men (2455 of 3556) in a current relationship do not use condoms consistently. This is a cause for concern when either or both partners is/are also having unprotected anal sex with casual partners (816 of 3556). This puts not only themselves, but also their regular partners at risk.
• Recent HIV testing (within the last 12 months) was also low, and almost a quarter of those surveyed had never been tested. A significant number who have never been tested, or tested recently continue to have unprotected anal sex with casual partners (684 of 7993).
• The level of HIV acceptance in the community is relatively high, but despite this, the degree of HIV disclosure remains low.