This was the first time that sexual diversity issues have been raised in the UN General Assembly (GA). In the GA the 192 member states of the UN each have one vote. But the GA is not a legislative body, as any text on international law will tell you. And, in any case, there was no vote on Dec 18, just two competing statements.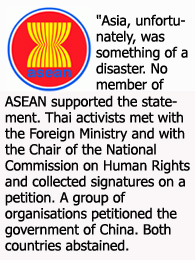 We have had bad days and good days at the UN. Dec 18 gave us momentary visibility. But news stories talked about a split, a polarisation. The split was already there, but we did not want the split to be the story. We wanted our statement to be the story. We had hoped to slip it into the UN record, with our foes gnashing their teeth in the corridors. It was not to be.
France wanted to take an initiative at the UN opposing anti-gay criminal laws, particularly where they carried the death penalty. The French initiative owed much to (a) French activist Louis-Georges Tin, who founded IDAHO, the International Day Against Homophobia, (2) France's hyper-active President Nicholas Sarkozy, and (3) France's moment in the sun, holding the presidency of the European Union through to the end of 2008.
Activists who remembered the drama of the "Brazilian Resolution" in the UN Commission on Human Rights, from 2003 to 2005, urged France to avoid doing anything that required a vote. A vote would mean a repeat of the obstructionism meted out in 2003 by Pakistan on behalf of the Organization of the Islamic Conference. Pakistan moved multiple amendments, and promised a hundred more. Anything to obstruct the process.
So the strategy was a statement in the General Assembly, backed by as many countries as could be drawn in. There had been two earlier statements, both in the Commission on Human Rights (now the Human Rights Council). The Norwegian statement in 2006 had 54 country supporters.
All 27 members of the European Union were on side. The co-sponsors were France and the Netherlands. To avoid the statement being simply a "Western" game, there were attempts to get support from different regions. Argentina made the actual statement in the GA. Almost all the countries in South America added their names in support. Six small black African states joined, but not South Africa. The US, China and Russia abstained. Cuba supported.
Asia, unfortunately, was something of a disaster. No member of the Association of Southeast Asian Nations supported the statement. Thai activists met with the Foreign Ministry and with the Chair of the National Commission on Human Rights and collected signatures on a petition. A group of organisations petitioned the government of China. Both countries abstained - maybe they were out having coffee together when the statement was read.
Only Armenia, Japan, Nepal and Timor-Leste supported the statement as Asian states. Indonesia, Malaysia and Brunei supported the 'no' side. South Korea had supported the Norwegian statement in 2006, but now was silent. North Korea, which says it has no homosexuals, voted against us.
The new UN High Commissioner for Human Rights, Ms. Navanethem Pillay, a Tamil lawyer/judge from South Africa, sent a wonderful statement [published on the next page].
"Those who are lesbian, gay, or bisexual, those who are transgender, transsexual or intersex, are full and equal members of the human family, and are entitled to be treated as such."
We will be quoting from her statement for the next decade as our lobbying goes forward.
Our opponents rallied 57 states. Their arguments were mostly repeats from earlier fights. Here is a summary of the points in the written version of the statement made by Syria:
(1) Rights based on sexual orientation and gender identity are "new rights" that have no legal foundation in any international human rights instrument.
(2) The real problems are discrimination on the basis of colour, race, gender, religion and other grounds, which the Argentinian statement wholly ignores.
(3) These matters fall essentially within the domestic jurisdiction of member states (and therefore have no place in UN debates).
(4) Accepting rights on the basis of 'sexual orientation' can lead to acceptance of paedophilia, bestiality and incest. The oral statement omitted the references to bestiality and incest.
(5) LGBTI are not 'vulnerable groups', in need of special protection (like women, children, the disabled, and refugees).
(6) The idea of a genetic cause for 'particular sexual interests or behaviours' has been repeatedly rejected scientifically (meaning that being gay or transgender is a personal choice).
(7) We must protect the family as "the natural and fundamental group unit of society" in accordance with article 16 of the Universal Declaration of Human Rights.
But Syria went on to say, as if there was no contradiction:
"We strongly deplore all forms of stereotyping, exclusion, stigmatisation, prejudice, intolerance, discrimination and violence directed against peoples, communities and individuals on any ground whatsoever, wherever they occur."
The Holy See, which has observer status at the UN, made its own contribution. As in the past its preoccupation seemed to be with preventing any slide towards same-sex marriage. With that dire outcome in mind, they condemned discrimination, called for decriminalisation, but opposed the statement. Catholic majority countries at the UN tend to ignore what the Church says.
The split at the UN is out in the open. It was anyway, but the split in the General Assembly generated much more attention than previous fights. Media find the UN impossible to cover - hundreds of meetings every week - endless talking. The General Assembly is different. It has no law making power, but it is visible and political. The big people show up to make speeches. Our issues are a bit further out of the closet at the UN.
Supporting the Argentinian statement were:
Albania, Andorra, Argentina, Armenia, Australia, Austria, Belgium, Bolivia, Bosnia and Herzegovina, Brazil, Bulgaria, Canada, Capte Verde, Central African Republic, Chile, Colombia, Croatia, Cuba, Cyprus, Czech Republic, Denmark, Ecuador, Estonia, Finland, France, Gabon, Georgia, Germany, Greece, Guinea-Bissau, Hungary, Iceland, Ireland, Israel, Italy, Japan, Latvia, Liechtenstein, Lithuania, Luxembourg, Malta, Mauritius, Mexico, Montenegro, Nepal, Netherlands, New Zealand, Nicaragua, Norway, Paraguay, Poland, Portugal, Romania, San Marino, Sao Tomo and Principe, Serbia, Slovakia, Slovenia, Spain, Sweden, Switzerland, the former Yugoslave Republic of Macedonia, Timor-Leste, United Kingdom, Uruguay and Venezuela.

Supporting the Syrian statement were:
Afghanistan, Algeria, Bahrain, Bangladesh, Benin, Brunei, Cameroon, Chad, Comoros, Cote d'Ivoire, DPR Korea, Dijbouti, Egypt, Eritrea, Ethiopia, Fiji, Gambia, Guinea, Indonesia, Iran, Iraq, Jordan, Kazakhstan, Kenya, Kuwait, Lebanon, Libya, Malawi, Malaysia, Maldives, Mali, Mauritania, Morocco, Niger, Nigeria, Oman, Pakistan, Qatar, Rwanda, Saint Lucia, Saudi Arabia, Senegal, Sierra Leone, Solomon Islands, Somalia, Sudan, Swaziland, Syria, Tajikistan, Togo, Tunisia, Turkmenistan, Uganda, United Arab Emirates, United Republic of Tanzania, Yemen, and Zimbabwe.

The rest of the 192 members either abstained or were absent.

Douglas Sanders is a retired Canadian law professor, living in Bangkok. He can be contacted at sanders_gw@yahoo.ca.
---
Statement by Ms. Navanethem Pillay, UN High Commissioner for Human Rights
December 18, 2008
The Universal Declaration of Human Rights is not just aspirational - most of the rights are customary law, with universal applicability. Whilst there is clarity in it's terms, there has been resistance to its implementation and sadly, 60 years later, we are still having to face the contestation that whilst it applies to everyone it does not do so equally; the ageless cliché that everyone is equal but some are more equal than others is not acceptable. No human being should be denied their human rights simply because of their perceived sexual orientation or gender identity. No human being should be subject to discrimination, violence, criminal sanctions or abuse simply because of their perceived sexual orientation or gender identity.
The protection of the rights of those who identify as lesbian, gay or bisexual, and those who are transgender, transsexual or intersex, has attracted extremities of thought and passions. There has been considerable progress in terms of legal recognition, including the interpretation by treaty bodies, in particular the Human Rights Committee and the Committee on Economic, Social and Cultural Rights. There is now a considerable body of decisions affirming that discrimination on the basis of sexual orientation is contrary to international human rights law.
The position of the human rights courts is becoming similarly homogenous with the courts upholding rights of privacy, freedom of expression and bodily integrity as well as principles of non discrimination. And I would pause a comment on this element, as there are those who argue that because sexual orientation and gender identity are not explicitly mentioned in any of the conventions and covenants, there would be no protection. My response is that such a position is untenable in legal terms, which is confirmed by the evolving jurisprudence. The principle of universality admits no exception. Human Rights truly are the birthright of all human beings.
Within the realms of soft law, the Special Procedures mandate holders are increasingly ensuring consideration of these issues within their respective mandates, and indeed, have consistently identified that human rights violations based on sexual orientation or gender identity reflect a protection gap that needs to be closed.
Sadly, despite this progress, there remain too many countries which continue to criminalize sexual relations between consenting adults of the same sex in defiance of established human rights law. Ironically, many of these laws, like the Apartheid laws that criminalized sexual relations between consenting adults of different races, are relics of the colonial era, and are increasingly becoming recognized as anachronistic, and as inconsistent both with international law and with traditional values of dignity, inclusion, and respect for all.
At the global level, some ten countries still have laws making homosexual activity punishable by death. These laws legalize violence and are used to justify threats, attacks to the physical and moral integrity of persons, including their exposure to torture. Human rights defenders are particularly vulnerable. The stigma attached to these issues means that violence and discrimination often go unpunished, as victims do not report their cases and the authorities do not pay sufficient attention to those who do.
Those who are lesbian, gay, or bisexual, those who are transgender, transsexual or intersex, are full and equal members of the human family, and are entitled to be treated as such.