Starting March 2008, the National Tourist Office of Spain will be running an online campaign in a bid to reach out to the gay market within the South-East Asian region, specifically in Singapore.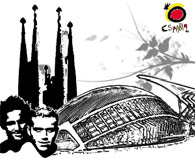 In addition to banner ads specially created for Fridae, Spain's better known gay areas and cities such as Barcelona, Madrid, Sitges and Ibiza will also be featured in Fridae's city guides - the first European country gay guide on the website.
Explaining his reasons for choosing Fridae, Enrique Ruiz de Lera, Director of NTO Spain, SE Asia, Australia, New Zealand and India said in a press release: "Working with Fridae allows us to hit the pink market in a subtle manner. Although, the general community behaviour towards the pink market in South-East Asia is quite lax, it still sometimes remains a taboo subject."
"Yet, one must realise that this is a huge niche market that cannot be ignored."
Fridae.com has been ranked as the No.1 most visited gay and lesbian website in Singapore from January to March 2007 by Hitwise, a leading online competitive intelligence service.
In 2006, Fridae.com was also the stickiest site in Singapore based on Nielsen/Netratings. Fridae attracted 380,000 unique browsers and 50 million page impressions per month. The average session duration has increased from 12 minutes to 18 minutes in January 2007.
"Fridae is very enthusiastic about working with Tour Spain to promote Spain as a destination of choice for the Asian gay and lesbian traveler, " said Dr Stuart Koe, CEO of Fridae.
He added: "Gays and lesbians are known to be avid travelers, and based on Fridae's research data, spend more than four times per capita compared to the average tourist. Spain, with its rich cultural and design heritage and gay-friendly society, is a perfect holiday choice."
Having decriminalised same-sex relations in 1979, Spain is today one of the most gay friendly countries in the world - being one of five countries that allow same-sex couples the right to marry and adopt children. The capital city of Madrid hosted Europride last June which turned out to be the biggest Europride ever attracting about 2.3 million people over a ten day period.
"Spain is one of the friendliest and most hospitable countries in the world, and that goes for every visitor, including the LGBT community," says Mr Ruiz de Lera. "The LGBT community consist of a young, affluent and travel-savvy audience that will find in Spain an irresistible mix of arts, culture, history, its pulsating nightlife, fashion and an amazing variety of food and wine."
"Fridae was the obvious partner to convey this message to the Southeast Asian gay community."
The most popular destinations for gay tourists who visit Spain are Madrid and its Chueca neighbourhood, Barcelona, Ibiza and Sitges. Visit www.fridae.asia/cityguides2 for for information on places to go, stay and more.