ITB Asia will be hosting a "Pink Corner" for the second consecutive year but this year's event will feature for the first time a seminar to discuss the "Impressive Marketing Potentials of Pink Tourism" with speakers from Japan, Europe and the United States.
When contacted by Fridae, Nino Gruettke, executive director of ITB Asia, said that organisers are pleased that they have been successful in extending the presence of the LGBT travel segment from the show floor in 2012 to the conference programme with a LGBT travel marketing seminar this year. The gay and lesbian travel section was first visible at the main ITB Berlin event since 2003 and became more established in 2010.
"LGBT tourism is a niche market segment that is one of the fastest growing in the industry, with large potential for further growth in Asia, particularly in culture, shopping, adventure and luxury tourism segments. LGBT tourism has been represented at ITB Asia since 2012, and by offering a LGBT panel at this year's show, we hope to provide delegates with interesting insights on how to tap this highly lucrative market," he said.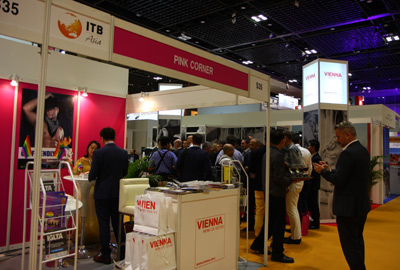 Pink Corner at ITB Asia 2013. Photos by Sylvia Tan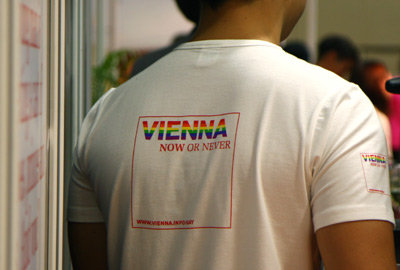 The baristas' tshirts promoting "www.vienna.info/gay" at the "Pink Corner cafe".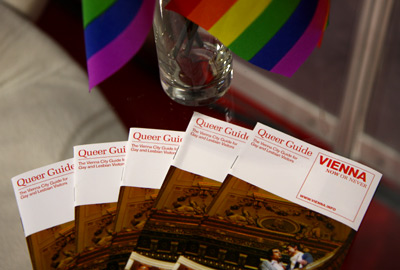 On Wednesday, Oct 23, the Vienna Tourist Board and visitBerlin will host a press conference to share why the two European cities would appeal to gay and lesbian travelers, and what they are doing to promote their cities as gay-friendly destinations.
Ralf Ostendorf, director of sales and market management at visitBerlin, told Fridae that although they have been promoting Berlin as a LGBT destination in many countries in the western world, promoting LGBT Berlin in Asia is a fairly new endeavour for them.
visitBerlin's ongoing Pink Pillow Berlin Collection initiative aims to set a new standard for hotel hospitality by not only welcoming LGBT travellers and treating them with the same respect as any other guests but the hotels have to commit to creating a work environment of respect and tolerance for their staff as well as to contribute actively in the local LGBT community. "So instead of simply having a rainbow flag sticker at the door, it is about taking the next step," he said.
He added that Berlin is proud to call itself the "cradle of gay liberation" given that the first known gay advocacy group was founded in Berlin in 1897. The Scientific-Humanitarian Committee is the earliest known organisation to campaign for the social recognition of homosexual, bisexual and transgender men and women, and against their legal persecution under Paragraph 175 of the Imperial Penal Code at the time.
Today, Berlin is said to be home to about 400,000 LGBTs and the third largest gay metropolis in Europe.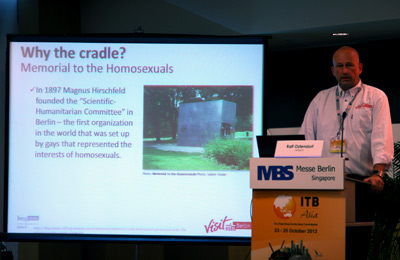 Ralf Ostendorf, director of sales and market management, visitBerlin
Presented by the ITB Academy, a separate seminar on Friday, Oct 25 aims to provide participants from tourist organisations, hotel suppliers, tour operators and travel agencies with information and best practices on how to cater to gay and lesbian travelers. Speakers include Rika Jean-François (ITB Berlin), Thomas Bomkes (Diversity Tourism UG, Germany), Tom Roth (Community Marketing Inc., United States), Masaki Higashida (International Gay & Lesbian Travel Association Ambassador, Japan), Tobias Holfelt (MB Market Makers, Sweden) and Ralf Ostendorf (Visit Berlin, Germany).
Vienna Tourist Board and visitBerlin Press conference/ Networking reception
Date: Wednesday, October 23, 2013
Time: 2.30pm - 3.30pm / 4.30pm - 6pm
Location: Suntec Singapore
Impressive Marketing Potentials of Pink Tourism
Date: October 25, 2013
Time: Noon - 1pm
Location: Suntec Singapore
Trade Visitor Tickets can be purchased online.