For the second year running, the US Open has provided us the most shocking way a tennis star could end a match. Last year, we had Serena Williams's fiery exit. This year, we witnessed 10th seeded Belarussian, Victoria Azarenka slumping to the ground while trailing Argentina's Gisela Dulko 5-1 on the Grandstand court. Azarenka was taken off court in a wheelchair and treated in hospital where she was diagnosed with a mild concussion.
"I was warming up in the gym prior to my match against Gisela Dulko when I fell while running a sprint. I fell forward and hit my arm and head," Azarenka said in a statement.
"I was checked by the medical team before I went on court and they were courtside for monitoring. I felt worse as the match went on, having a headache and feeling dizzy. I also started having trouble seeing and felt weak before I fell."
Dressed in a black Nike outfit in temperatures nearing 32 Celsius, Azarenka showed few signs of any medical problem as she came on court to warm-up. During the match, she did call for the trainer to complain about blurred vision.
It became increasingly clear that she was in difficulty as she took time out between every subsequent point and was ill at ease on her feet.
Then, while serving for the fourth time in the match, she collapsed on the baseline, leading to gasps from the crowd and a rush of medical staff onto the court who placed a white towel over her legs.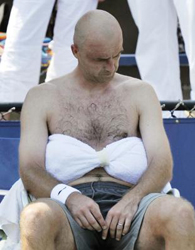 This would be Azarenka's second retirement from a Grand Slam event. In the quarter-finals of the 2009 Australia Open, she pulled out citing dizziness and illness despite leading her opponent, Serena Williams by a set.
The 21-year-old Belarussian's poor track record with play under extreme heat condition would certainly undermine her future success. Perhaps, she should approach Croatian Ivan Ljubicic (pictured, right) for tips to combat heat?