Organisers have estimated that over 28,000 LGBT and allies from Singapore and beyond attended this year's rally, which exceeded the capacity of Hong Lim park. The event began in 2009 with an attendance of 2,500.
This year, organisers replaced its traditional light-up of pink torches—to form a "pink dot" at the park—with the raising of pink placards at the culmination of the event and making a stand for the Freedom to Love.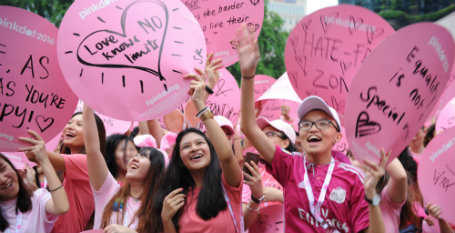 All of the 5,000 placards were given out, which included messages of "inclusive love" and "freedom to love" written on them.
They were led by Pink Dot 2016 Ambassadors: television host and writer Anita Kapoor; comedian, singer and actress Liu Ling Ling; as well as rapper, music producer and film-maker ShiGGa Shay.
"We're all human beings, why can't we just live as we want to? If you think about it, and you don't think about sexuality and sex, and just them as human beings, why can't we do it?" said TV host and this year's event ambassador, Anita Kapoor.
"As we move into our eight year, we felt it was timely to emphasise that Pink Dot is an annual rally to speak up and stand strongly against discrimination, and champion the importance of inclusivity and diversity in Singapore," said Paerin Choa, Pink Dot Spokesperson.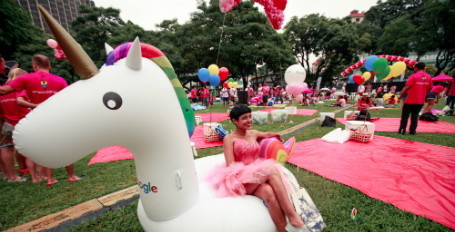 "We are heartened that so many Singaporeans and Permanent Residents feel the same way, and have chosen to stand together with us today,"
"We are looking forward to the day when everyone in Singapore understands and celebrates the fact that the Freedom to Love is a fundamental human right that should not be denied to anyone."
The Community Tent, an annual fixture at Pink Dot, saw 25 LGBT and LGBT-friendly organisations from Singapore set up booths to help to build a community support network and inform attendees about LGBT issues.
For the third year running, Pink Dot also invited members of the LGBT community as well as straight allies to speak about LGBT issues in the Community Voices segment.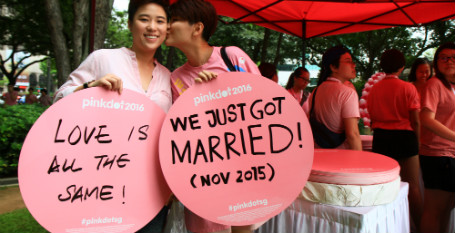 The Pink Dot Concert saw a variety of home-grown talents entertain attendees. ShiGGa Shay and Liu Ling Ling, as well Pink Dot 2015 Ambassador Hirzi took to the stage to loud cheers. They were also joined by pop/soul artist Gareth Fernandez, singer-songwriter Charlie Lim, A cappella group MiCappella, and singer Vandetta (Vanessa Fernandez).