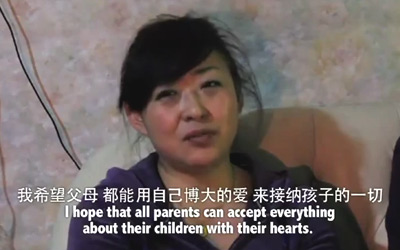 Mother of a gay son
The 80-minute long documentary is directed by Fan Popo is a Chinese independent film maker, writer and activist; with the support of PFLAG China, Queer Comrades, China Queer Independent Films, Beijing Gender Health Education Institute.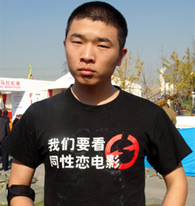 Fan Popo
The film's synopsis reads: "For Chinese parents, finding out that their kid is gay usually presents a major tragedy, with the big majority utterly unable to accept the homosexuality of their son or daughter. However, during recent years a fresh rainbow wind has been blowing over the Chinese mainland: a pioneer generation of Chinese parents has been stepping up and speaking out on their love for their gay kids. This documentary features 6 mothers from all over China, who talk openly and freely about their experiences with their homosexual children. With their love, they are giving a whole new definition to Chinese-style family bonds.
Rainbow Mama had its world premiere at the Hong Kong Lesbian and Gay Film Festival last November and has since been screened at the Boston LGBT Film Festival, Frameline San Francisco International LGBT Film Festival, OUTFEST Los Angeles LGBT Film Festival, Vancouver Queer Film Festival, Kashish Mumbai International Queer Film Festival and Taiwan International Ethnographic Film Festival.
For upcoming screening dates, visit www.queercomrades.com/en/blog/mama-rainbow-china