Barisan National MP Datuk Seri Noh Omar created a stir in parliament on Wednesday when he said that the greatest threat to Malaysia are religious conflicts, and lesbian, gay, bisexual and transgender (LGBT) rights advocacy. He was debating the amendments to the Security Offences (Special Measures) Act.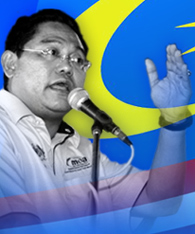 Photo: Noh Omar's Twitter page
According to local media reports, the former Agriculture and Agro-based Industry Minister accused the opposition party of being involved with the Coalition of Malaysian NGOs (Comango) in the Universal Periodic Review (UPR) on human rights. The coalition , which is in Geneva for the human rights review, had urged the government to endorse Sexual Orientation and Gender Identity (SOGI) rights or LGBT rights, among other demands.
When Parti Keadilan Rakyat MP (PKR) MP Sim Tze Tzin interjected saying that Noh should focus on other human rights issues such as abuse on migrant workers and human trafficking, Noh reportedly asked Sim if he would like it if a man had sex with another man.
When PKR MP Nurul Izzah Anwar tried to interject, he asked her about her views on sodomy alluding to her father, Opposition Leader Anwar Ibrahim's sodomy case.
It then prompted a heated exchange between ruling coalition UMNO and opposition MPs.
Nurul Izzah, who is the daughter of Anwar Ibrahim, the former Deputy Prime Minister of Malaysia and de facto leader of the PKR, was reportedly incensed by his remarks and demanded Noh withdraw his unparliamentary words.
Anwar Ibrahim was jailed in 1999 on sodomy and corruption charges which was widely seen as being politically motivated. The Supreme Court in 2004 overturned the sodomy conviction.
Noh reportedly slammed the NGO which campaigned for LGBT rights at the UN which he said had amounted to insulting the Malaysian Constitution and undermining Islam. He also urged the Registrar of Societies (ROS) to take action if it was found that any of the 54 organisations in Comango was unregistered.