It seems gay men and lesbians around the world have taken to social media to announce that they will indeed boycott the pasta brand after the president of Italy-based Barilla suggested that gay men and lesbians should "eat another pasta" if they are displeased that the company will not feature families with a same-sex couple in commercials.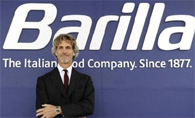 Guido Barilla, president of Italy-based Barilla
Guido Barilla, president of Italy-based Barilla, one of the best known pasta brands around the world, reportedly said on an Italian radio program La Zanzara (The Mosquito) on Radio24, "For us the concept of the sacred family remains one of the basic values of the company."
"I would not do it but not out of a lack of respect for homosexuals who have the right to do what they want without bothering others… [but] I don't see things like they do and I think the family that we speak to is a classic family," reported The Guardian.
When asked what effect that view would have on gay consumers, he added, "Well, if they like our pasta and our message they will eat it; if they don't like it and they don't like what we say they will… eat another."
He went on to discuss gay rights, saying that he "respected everyone" and is in favour of gay marriage, but against gay adoption.
The company on Thursday issued a statement in Italian on the company Facebook page with an apology and a defense of his comments.
"I apologise if my words have led to misunderstandings or controversy, and have bumped the sensibilities of some people," wrote Barilla. "I have the utmost respect for homosexuals and for freedom of expression to anyone. I also said and repeat that I respect marriages between persons of the same sex. Barilla in its advertising has always chosen to represent the family because this is a symbol of welcome... for all."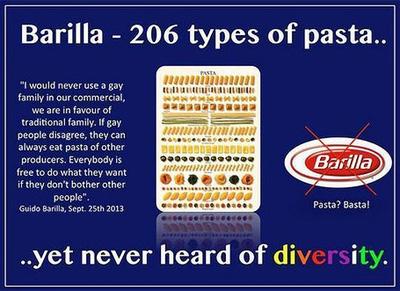 As seen on Twitter.
Barilla US, the American division of the Italian company, also apologised via Facebook and Twitter late this afternoon for remarks by the company's chairman Guido Barilla, made on a radio program last night.
"At Barilla, we consider it our mission to treat our consumers and partners as our neighbors – with love and respect – and to deliver the very best products possible. We take this responsibility seriously and consider it a core part of who we are as a family-owned company. While we can't undo recent remarks, we can apologise. To all of our friends, family, employees, and partners that we have hurt or offended, we are deeply sorry."
The pasta company's president's remarks ignited a firestorm on social media overnight and the protest became a trending topic on Twitter with the hashtag #boicottabarilla which means boycott Barilla. Gay rights groups in America and Italy have also slammed the remarks with gay rights group Equality Italia launching a full boycott of every Barilla product.
GLAAD, an advocacy group for gays, lesbians, bisexuals and transgender people, says it plans to contact US supermarket chains and ask officials to speak out against Barilla's comments and in support of their own LGBT consumers. The group's vice president of communication Rich Ferraro added that it had also emailed the company an invitation to meet with LGBT community members "and get to know how traditional we really are."
Barilla, who with his brothers Luca and Paolo, represent the fourth generation running the family-owned firm founded in 1877. The company owns 13 brands which distributes its products in 100 countries under names that include Barilla, Mulino Bianco, Wasa, Vesta, Gran Cereale and others.
Italy is one of the few countries in Western Europe which does not recognise any form of same-sex partnership.