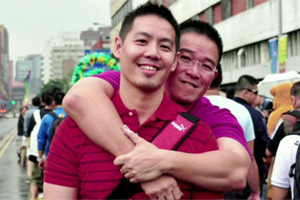 Gary Lim, 44, and Kenneth Chee, 37, have been partners for 15 years.
In July, Gary Lim and Kenneth Chee announced that they have appointed a new lawyer Senior Counsel Deborah Barker at KhattarWong LLP, one of Singapore's leading law firms, and for the admission of Lord (Peter) Goldsmith QC to argue the appeal as co-counsel with Barker.
They are appealing their case after the High Court in Singapore in April dismissed a legal challenge filed by the couple of 15 years on the basis that section 377A of the Penal Code that criminalises sex between men and which provides a jail term of up to two years is unconstitutional.
Lord Goldsmith is Chair of Asia and European Litigation at Debevoise and Plimpton LLP, and was Attorney-General for England, Wales and Northern Ireland from 2001 to 2007. He had recently represented the London-based Human Dignity Trust, the International Commission of Jurists and the Commonwealth Lawyers Association to argue a similar case to s377A before the Belize Court of Appeal. Located along the northeastern coast of Central America, the former British colony's criminal code currently outlaws "carnal intercourse" between consenting same-sex adults.
Judge of Appeal V K Rajah on Thursday dismissed the application and ruled that the application did not meet the requirement for admitting foreign senior counsel on an ad hoc basis under the Legal Profession Act, where there must be a "special reason" to do so, according to Singapore's Today newspaper.
The report said:
While there is no definitive parameter on the requirement, he said "there must be something specific to the nature of the facts or legal issues concerned beyond the expected features of ordinary constitutional cases". In this case, there was nothing "out of the ordinary which would constitute a special reason" to justify Lord Goldsmith's admission.
He also noted that foreign senior counsel can participate in the preparation of both written submissions and further submissions, as well as the oral case, by anticipating and preparing questions. "In the Singapore context, written advocacy has a more prominent part to play in the appellate process than in other common law jurisdictions … The written medium functions as the focal means by which counsel informs and persuades the court on the merits of their submissions", while oral submissions build upon rather than supplant arguments made, he said.
The case will be heard by the Court of Appeal in three weeks' time.