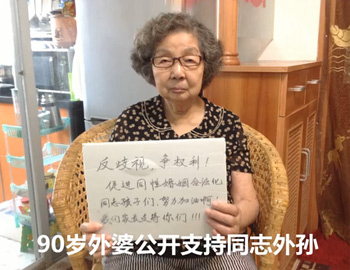 Produced by Guangzhou-based Parents, Families, & Friends of Lesbians and Gays (PFLAG) China, a 1-minute video featuring a 90-year-old grandmother has made the gay headlines this week.
In the video, she is seen holding a placard that support the legalisation of same-sex marriage. The grandmother said in the Fuzhou dialect: "I am 90 years old. My grandson is gay. He is filial and sensible. I love him very much. I hope he will find a boyfriend and live a happy life. And I hope our government supports him."
According to Hong Kong's South China Morning Post, the grandson is a 28-year old engineer in the southeastern city of Fuzhou who came out to his parents last year. His elderly grandmother however turned out to be more supportive of him than his parents.
"She even tried to calm my parents – who were less accepting in the beginning – and asked them to take it easy," said the unnamed grandson in the Post. "She did it out of simple love."
Ah Qiang, the Executive Director of PFLAG China which produced the video, said many Chinese parents he has encountered have been adamant advocates of same-sex marriage.
"Parents seem to care equal marriage rights even more than their children," he was quoted as saying in the Post. "They believe their children will better take care of the spouses if they are legally married."
In February, more than 100 parents of gays and lesbians in China wrote an open letter to delegates of China's National People's Congress demanding marriage equality for their children.