In recent weeks, pressure has been mounting on the International Olympic Committee to clarify how Russia's anti-gay law will be applied during the 2014 Winter Olympic Games to be held 7-23 February in Sochi. Last month, Russia passed a law to ban "propaganda of nontraditional sexual relations around minors" and punishes any instance of it with fines, jail time, and possible deportation. The law effectively bans pride parades, and any public discussion of gay rights and relationships anywhere children might hear it.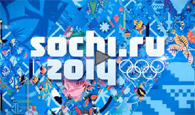 LGBT rights activists around the world are now calling for a boycott of the Sochi Winter Olympics or to relocate it to a country that is gay-friendly as well as a boycott of Russian vodka to protest Russia's stance on homosexuality.
The IOC had earlier assured LGBT athletes, coaches, and spectators that they will "work to ensure" that the 2014 Sochi Games will take place "without discrimination", and that they had "received assurances from the highest level of government in Russia that the (anti-gay) legislation will not affect those attending or taking part in the Games."
On Monday, Russia's Interior Ministry, which controls the police force, declared that the country's controversial anti-gay law will be enforced during the Winter Games, reported Russia's state news agency RIA Novosti.
"The law enforcement agencies can have no qualms with people who harbour a nontraditional sexual orientation and do not commit such acts [to promote homosexuality to minors], do not conduct any kind of provocation and take part in the Olympics peacefully," said an Interior Ministry statement issued on Monday.
In a later report in Gay Star News, the stance of the IOC had changed and that the Committee will punish athletes who stand up for gay rights in Russia. According to the report, the IOC spokesperson said that the "IOC has a clear rule laid out in the Olympic Charter (Rule 50) which states that the venues of the Olympic Games are not a place for proactive political or religious demonstration."
Those found in violation of Rule 50 can be subject to "disqualification or withdrawal of the accreditation of the person concerned," without any sort of appeal.
Gay Star News added, "Any participant who steps out of line may be punished, not by the Russians but by Olympic chiefs themselves."
US-based Human Rights First has called on the IOC to clarify its recent statement that suggests that it will punish athletes who stand up for gay rights in Russia.
"Today's alleged comments can seriously undermine the positive steps taken by the IOC to get clarification from the Russian government on how the antigay law will be applied during the 2014 Sochi Games," said Human Rights First's Innokenty Grekov. "If today's statement is true, athletes may not only have to worry about the Russian government, but about reprisal from the IOC as well."
"The Olympic Charter should not be used against those who advocate equality and nondiscrimination," said Grekov. "The IOC should publicly clarify whether or not athletes showing solidarity with LGBT Russians will be reprimanded."
Following the recent passage of the anti-gay laws, hate crimes against gay people in Russia have made international headlines. According to the BBC, two brutal murders this year were reported to have homophobic motives even if, as in the case of a young man beaten to death in May in Volgograd, the victim may not actually have been gay.
Gay rights advocate say not only will the anti-gay law effectively ban gay rights rallies and events, it would give Russians carte blanche to attack gays.
Homosexuality was decriminalised after the 1991 collapse of the Soviet Union, but President Vladimir Putin has championed socially conservative values and reportedly has close ties with Russian Orthodox Church.
Prominent LGBT rights advocates including British actor and writer Stephen Fry have called for a boycott of the event. President Barack Obama rejected the idea but added that he was deeply offended by Russia's new law cracking down on gay rights activism.
British Prime Minister David Cameron has similarly opposed the idea of a boycott although he said that he shares Fry's "deep concern about the abuse of gay people in Russia", and added that attending the games is a better way of tackling prejudice against gays.
Fry conceded that as it was "probably not realistic to call for a move or a boycott," he suggested athletes make symbolic protests at the games, such as crossing their arms over their chests to "show they are thinking of the gay people of Russia who are being tormented and brutalised every day," Fry told the BBC.