In 2009 the Delhi High Court 'read down' section 377, the colonial era anti-homosexual criminal law. It could no longer apply to sexual activity by consenting adult males. The national government was content to do nothing – let the section fade away without any appeal, without any embracing of gay 'human rights'. But religious zealots made sure there was an appeal to the Supreme Court. After more than a year from the apex court hearing we are still waiting a decision.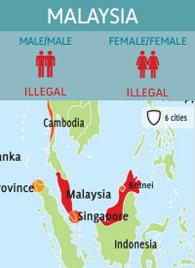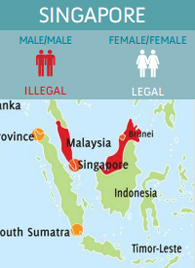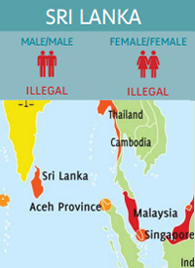 To download the International Lesbian, Gay, Bisexual, Trans and Intersex Association's (ILGA) 2013 State Sponsored Homophobia report, click here.
Meanwhile the Singapore version of the gay sex prohibition has been challenged in two cases. In April, 2013, the first decision upheld the law as representing moral views in Singapore. There will be an appeal. Discriminatory criminal laws are gone in Hong Kong, but survive in other former British colonies – Bangladesh, Brunei, Malaysia, Myanmar, Pakistan, Sri Lanka – and in parts of Central Asia.
LGBTI visibility remains low. But now there are now two out gay men elected in Tokyo [Taiga Ishikawa (Toshima, Tokyo ward) and Wataru Ishizaka (Nakano, Tokyo ward)] and another in Hong Kong [Raymond Chan]. The pioneers were an elected lesbian [Kanako Otsuji] in Osaka and a transwoman [Aya Kamikawa] in greater Tokyo. Hijras are running for office in a couple of campaigns in India. Some have been local mayors in the past, and one a member of a state assembly.
Taiwan remains the only jurisdiction in Asia that prohibits employment discrimination on the basis of sexual orientation. But at least three local governments now have such laws in the Philippines.
Public gay pride events are a bit more common. The "Pink Dot" in Singapore has become world famous, as a clever way around the laws prohibiting public demonstrations. Let's all meet in the park, have a picnic, wear pink. The result is an annual publicity shot – in 2012 showing 15,000 pink people gathered together. In Vietnam people tied rainbow ribbons and flags to their motor bikes and roared around Hanoi in a colorful non-demonstration. That broke the ice, and official pride events have followed. Head to Hanoi for the next one, August 2 and 3, 2013. Phuket and Pattaya in Thailand still have "pride" events, but Bangkok gave up on any parade years ago (been there, done that). There are still bitter memories of the forced closure of the pride parade in Chiang Mai four or five years ago. Lots of pride parades in India these days – I've lost count.
Trans[men and women] can get document change in many jurisdictions now. They can marry in their chosen sex [to a member of a different gender] in China, Indonesia, Japan, Singapore, South Korea, Taiwan, and at least parts of central Asia (though usually under restrictive conditions). Hong Kong will change personal identity documents, but not the birth certificate, which governs marriage rights there. A court challenge lost at trial and on appeal – but is now before the final court of appeal. [On 13 May 2013, the Court of Final Appeal ruled that she will be allowed to marry her boyfriend.]
Foreign governments and funders are increasingly LGBTI friendly in Asia. The UN Development Program, together with other partners, including US AID, launched a "Being LGBT in Asia" program late in 2012, building on programs and studies that have in the past been driven by health agendas.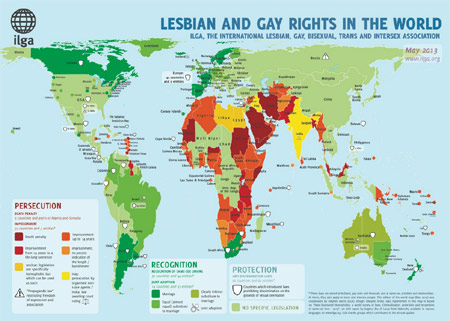 Click here to view enlarged map.
All images from ILGA's 2013 State Sponsored Homophobia report.
In 2012, to worldwide rainbow applause, the Minister of Justice in Vietnam said they really should move to open up marriage if they were serious about human rights. A long process of consultations and discussions on a number of reforms to family law is currently underway. We could see either civil unions or marriage in Vietnam in 2014. And the same issue is hot in Taiwan and Thailand at the moment. A committee of the Thai parliament held five regional hearings on the proposal for equal partnership rights in the early part of 2013.
One of these days, there will be a breakthrough. Which country will lead? The horse race at the moment features Nepal, Taiwan, Thailand, and Vietnam. Place you bets!
Myo Min has returned to Myanmar/Burma from exile, and the new organization is Color Rainbow, with freshly opened offices in Yangon. 25 sparkling young delegates from Myanmar were at the ILGA Asia conference in Bangkok in March, 2013.
For years I have lamented the lack of "out" figures in my beloved Thailand. But now there are three popular out pop stars (Pongsak "Aof" Rattanaphong, Ben Chalatit and Zee)! Wow! That's a change. And two great Tom-Dee movies over the last couple of years that got mainstream distribution. And four magazines with mainstream distribution, including the fabulous Tom Act lesbian lifestyle mag.
This commentary first appeared as an overview of the section on Asia in the International Lesbian, Gay, Bisexual, Trans and Intersex Association's (ILGA) 2013 State Sponsored Homophobia report. To download the report, click here.