In the new public service campaign video by GLAAD, titled "Jackie Chan comes out…", Chan is heard saying, "It's not enough to talk about those fighting for freedom, for equality, until you are one of those fighting." He continues as he is seen literally walking out of a closet, "I'm Jackie Chan and I'm coming out of the closet as a friend fighting for equality."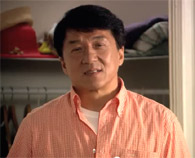 Jackie Chan
While Chan is a household name across Asia, the 58-year-old isn't known to be an advocate for LGBT equality or human rights in general in his native Hong Kong. In fact, the Hong Kong-born star was embroiled in some controversy last year and in 2009 when he suggested that the right to protest should be limited.
GLAAD is an US non-governmental media monitoring organisation which promotes the image of LGBT people in the media.
Titled Coming Out For Equality and helmed by director Brett Ratner, other participants of the campaign Tamala Jones (Castle), Giada De Laurentiis (Food Network), DeRay Davis (21 Jump Street), Hudson Taylor, Jaime King (Hart of Dixie), Jason Alexander (Seinfeld), Kristen Johnston (The Exes), Sarah Shahi (The L Word), and Pauley Perrette (NCIS). Additional participants and videos will be released later this month.
GLAAD announced last year that it was developing the campaign with Ratner after he stepped down as producer of the Academy Awards in 2011 over an incident in which he used an anti-gay slur ("rehearsing is for fags") as a joke at a press conference.