The following is a press statement issued by law firm L F Violet Netto, which represents Tan Eng Hong, on Mar 4, 2013:
Tan Eng Hong's challenge before the Court enters its 30th month
On Wednesday, 6 March 2013, at 10:00am, Mr. Tan Eng Hong's civil appeal challenging the Constitutionality of statute 377A of Singapore's Penal Code will be heard in the High Court. Statute 377A is the law that makes "gross indecency" between two men a crime in Singapore, punishable with up to two years' imprisonment. Wednesday's hearing will mark another milestone for Mr. Tan, along with his lawyer, Mr. M Ravi, in the long march to equal rights in Singapore.
Long road to justice
Mr. Tan and his legal team have been pursuing this fight in the Courts continuously since he first filed his Constitutional challenge on 24 September 2010. That initial application to challenge s377A had been swiftly rejected by Justice Lai Siu Chiu of Singapore's High Court in December 2010. Mr. Ravi appealed the Court's decision on his client's behalf, citing that his client "has a personal interest in living a dignified life" free from prosecution for his sexual orientation, "a scientifically immutable aspect of his personal identity."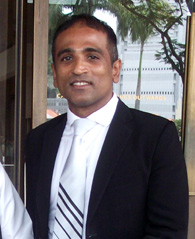 Lawyer M Ravi will represent Tan Eng Hong
On 27 September 2011, Mr. Tan's appeal was heard by the Honorable Justice of Appeal VK Rajah, Judge of Appeal Andrew Phang and Justice Judith Prakash, of Singapore's Court of Appeal. It was the very first time that the Court of Appeal in Singapore heard a case relating to sexual orientation. Despite the Prime Minister of Singapore having stated in Parliament in 2007 that s377A would not be proactively enforced, in Tan's hearing, Justice Prakash remarked at one point, "it seems s377A is alive and kicking", and that the "job of the prosecution would be much easier without s377A." Further, The Court of Appeal also observed that "passive prosecution", as referred to by the Parliament, was not the same as "no prosecution".
Landmark decision
It was nearly a year later on August 2012, that The Court of Appeal released a 106-page judgment, deciding to allow the Constitutional challenge against s377A to go ahead, reversing the decision of the High Court. Twenty-three months after Mr. Tan filed his first challenge, he had finally been granted leave to make his case in the High Court. The decision of the Court of Appeal, known as Tan Eng Hong Standing, had determined that Mr. Tan had grounds to be heard in Court and that s377A, "…in its current form extends to private consensual sexual conduct between adult males, this provision affects the lives of a not insignificant portion of our community in a very real and intimate way. Such persons might plausibly assert that the continued existence of s 377A in our statute books causes them to be unapprehended felons in the privacy of their homes. The constitutionality or otherwise of s 377A is thus of real public interest."
New challengers
By declaring that the existence of s377A affected homosexual men in a real and intimate way, the Court of Appeal opened the door for more Singaporeans to challenge the statute. On 30 November 2012, two men did exactly that. A new constitutional challenge was filed in the High Court against the constitutionality of Section 377A of the Penal Code. The plaintiffs, Gary Lim and Kenneth Chee, partners for 15 years, added their voices to the opposition to s377A and claimed the law entrenches "stigma and discrimination against lesbian, gay, transgender and bisexual people in society."
Mr. Lim and Mr. Chee, represented by attorneys Mr. Peter Low, Mr. Choo Zheng Xi and Ms. Indulekshmi Rajeswari, had their challenge heard before the High Court on 14 February 2013, by Justice Quentin Loh. As Justice Loh will also be hearing Mr. Tan's challenge on Wednesday, he has reserved judgment in the second challenge, until both can be deliberated upon.