For the month of February, the Tourism Authority of Thailand (TAT) has partnered with the Airports of Thailand Public Company Limited (AOT) and Immigration Bureau to launch "Amazing Thailand, Amazing Romance" which will "enable couples, straight or gay, traveling together to expedite their arrival in Thailand," reads a press statement obtained by Fridae.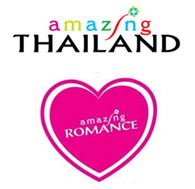 It is the first time such campaign has been launched. The fast track immigration access will be only be available to those entering Thailand via Suvarnabhumi Airport in Bangkok.
TAT advises in a press statement:
Couples who visit the "Amazing Thailand, Amazing Romance" counters -- located at both the East Concord (which receives passengers from Gates A, B, and C) and the West Concord (which receives passengers from Gates E, F, and G) -- can register for the "premium lane" and avoid traffic at immigration. Registration only takes a few minutes and requires that one partner provide basic information including name, country of residence, length of stay and e-mail address. The information will be used solely to provide updates to travelers regarding TAT's upcoming events, promotions and activities.
Once registered, travelers will be given pink heart-shaped stickers with the "Amazing Romance" logo, which will entitle the holders to use the "premium lane" for a fast track through the immigration process. Registrants also will be given key chains with the Thailand tourism mascot, "Sook Jai (Happiness)," to welcome them to Thailand. The counters will open between 5 a.m. and 9 p.m. and that souvenirs are limited in numbers.