Established in 1999, the Aibai Culture & Education Center (爱白网) is a non-profit organisation based in China. Its mission is to promote equal rights for lesbian, gay, bisexual and transgender (LGBT) communities through three key strategies: strengthening community alliance; public education and advocacy; and medical services and care to people living with HIV. The following report is provided by Aibai:
Over the last few years, the LGBT community has become more open with venues and websites specifically catering to this market. China's rapidly developing economy appears to have played a part in this development as has 'Globalisation' of the LGBT marketplace. Despite the growing social acceptance over the past decade, when it comes to the workplace most Chinese LGBT people still choose to stay inside the closet.
Aimed at promoting inclusive work environments for LGBT employees at businesses across China, the 2nd Annual Workforce Diversity Forum for the Chinese Marketplace, co-organized by Aibai Culture & Education Center and IBM, was held in Beijing on Friday, September 28 in Beijing.
About 90 human resource professionals, diversity champions, corporate decision makers, NGOs and LGBT community leaders attended the forum, which was sponsored by IBM, (presenting sponsor), French Embassy Beijing, and the European Union (through NPI and Internews Europe).
Experts on inclusive and diverse workplaces from IBM, Thomson Reuters, LGBT Capital, Community Business, Barclays, the British Council and several Chinese LGBT NGOs shared best practices examples and expertise on addressing the needs of LGBT staff in the workplace.
Tony Tenicela, IBM's Global Leader for Workforce and LGBT Markets gave his insight on how to leverage diversity and social business to drive innovation, as well as the business cases of diversity for enterprises doing business in growth markets.
"At IBM, diversity fosters innovation in the way IBM addresses the needs of our clients and helps the world work better. Given the breadth of IBM's business across 170 countries, diversity is a competitive differentiator that enables IBM to reflect the global diversity of our customers," says Tenicela.
At the event Dongwei Liu shared how TrustLaw, a global hub for free legal assistance and news and information on good governance and women's rights, is able to help LGBT charities, drawing on specific China examples. Leslie Li from Thomson Reuters also spoke about the organizations success in building a more inclusive environment for LGBT employees.
So, we can ask... Why should enterprises pay attention at building an inclusive and supportive environment for their LGBT employees? A study by Community Business, Creating Inclusive Workplace for LGBT Employees shows that if an enterprise does not provide a friendly and tolerant environment for their LGBT employees and thus leave them concealing their sexual orientations, their work efficiency will be compromised and in turn, a companies' productivity could be reduced by up to 30%.
If those business entities are supportive to sexual minorities and protect their rights, LGBT staff performance will be enhanced and their loyalty to the enterprises strengthened.
"From a LGBT market perspective, the discretionary income of the lesbian, gay, bisexual, and transgender community is growing every year, along with their presence in the workplace and marketplace," says IBM's Mr Tenicela.
He adds that, "IBM's ability to provide thought leadership to our customers in addressing constituency markets, as well as further leveraging those customer relationships to identify other business opportunities, is what makes this business model unique and effective."
Public image is another benefit. Diverse corporate culture contributes to a good public image of enterprises, thus attracting more consumers and supporting business growth.
To strategize the partnership between enterprises and NGOs in order to promote workplace diversity, Kevin Burns, Senior Project Officer of Community Business talked about how to create inclusive workplaces for LGBT employees from an NGO perspective. Paul Thompson, founder of LGBT Capital, gave a speech on investing in the LGBT community and the financial impact of LGBT diversity.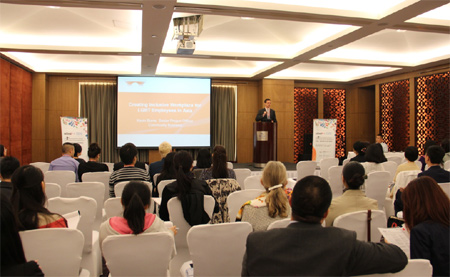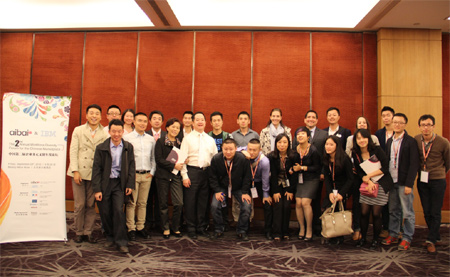 At the 2nd Annual Workforce Diversity Forum held at the
Beijing Hilton Hotel on Sep 28.
In addition, six guest speakers from IBM, Barclays, British Council, Aibai Culture & Education Center, PFLAGS Guangzhou, and Community Business also engaged in a panel discussion and analyzed the challenges and opportunities for enterprises and NGOs to work together and create an inclusive environment for LGBT employees.
Globally, nationwide reports such as Corporate Equality Index, started by Human Rights Campaign in the United States in 2001, and Workplace Equality Index, launched by Stonewall Equality Ltd in Britain in 2005, have become important references and effective catalysts in advocating diversity and improving equality at workplaces.
It is important to note that every single company on the Fortune Magazine's list of the "100 Best Companies to Work For" includes sexual orientation in their nondiscrimination policies, with more than half of these companies also including gender identity.
In the United States, more than 80% of the enterprises have policies that clearly prohibit discrimination based on sexual orientation in staff recruitment, workplace and commercial activities. Many multi-national enterprises in the United States, including IBM, Microsoft, Google, Apple, Boeing, Coca Cola, Disney, have provided benefits to LGBT employees and their partners.
In China, however, the policies of many multinational corporations have not yet been implemented at their national branches and a majority of domestic corporations do not have any awareness of the need and importance to build diverse environments at the workplace.
To address the problem, Aibai Culture & Education Center has been collecting and analyzing relevant information and news on diverse working environments for LGBT employees in multi-national and domestic enterprises in China since 2003.
In September 2011, Aibai Culture & Education Center organized the first workplace diversity workshop in China together with Internews Europe and Social Resource Institute. More than 50 people from corporate businesses, LGBT communities and CSR-related NGOs attended the workshop. Guest speakers from IBM, LA Gay & Lesbian Center, Goldman Sachs, NBC Universal and Silver Slipper Gaming also spoke at the event.
These workshops have been a milestone in developing workplace equality for sexual minorities in China. Despite this – we still have a long way to go.
In 2013, Aibai Culture & Education Center will continue working on promoting workplace diversity among Chinese marketplace through online surveys, trainings and workshops together with both corporate business and the NGO community.
Fridae and IBM are partners in presenting "LGBT Diversity in the Workplace" in Singapore on Nov 17. Registrations are now open and must be received by Nov 8. The event is free. For more information and to register, visit fridae.asia/diversity