On previous trips I felt adventurous. The Myanmar embassy in Bangkok looked at me with suspicion. They were ordered to bar any journalists or NGO activists. Major areas of the country were off limits. There were few tourists. Yet access was possible to many fascinating places.
Now there have been big changes. Tourism is up. Hotels are often fully booked. The Minister of Tourism calls it "the top emerging tourist destination" in Asia-Pacific. Still it is far, far, far from being a Bali, Singapore, Hong Kong or Thailand.
Internal air travel is expensive, but in most ways the country is still a bargain and so different from Thailand. There are now currency exchange places run by banks, with a group of them near Strand Road on Thein Byu Road. Others are opening, including in Aung San market. In February the exchange rate was about 815 Kyat for 1 US dollar.
Myanmar has a colonial era criminal prohibition on "carnal intercourse against the order of nature", the same 377 that has existed in India, Pakistan, Bangladesh, Singapore and Malaysia. There seems to be no history of enforcement. There are no stories of raids on gay venues or cruising grounds. There are no LGBT NGOs in Myanmar. Myo Min has headed an LGBT NGO, but it is based in Chiang Mai, Thailand.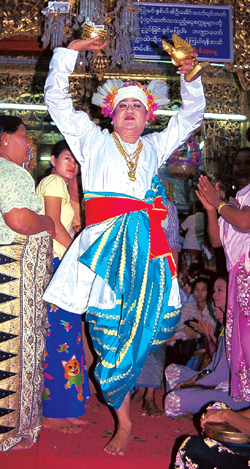 A nat spirit medium, unnamed. Photo: enchantingmyanmar.com
There is a public image of homosexuality in Myanmar. In Thailand the image is of transgender kathoey. In Myanmar it is of gay spirit mediums in the Nat religion, which functions in parallel with Buddhism. Everyone knows that most of the Nat spirit mediums are homosexual men. They cross-dress if the Nat spirit that they represent is a woman. If it is a man, they dress extravagantly, with heavy make-up, but the identity is male.
Nat worship seems to exist in all parts of the country (but not among non-Buddhists). Nat shrines are found on the grounds of all Buddhist temples, including the famous Shwedagon Pagoda in Yangon. Murals in Buddhist temples show Nats revering the Buddha. Gay spirit mediums, in this way, are a part of a national Buddhist/Nat religious system.
Is there a gay scene? Here is some information on Yangon.
369 Disco
This largely gay disco has been in operation for a number of years, but seems to have fallen on lean times. In February the crowd was small, and the show was close to nothing. It is on Shwedagon Pagoda road between Mahabandoola Road and Anawratha Road. It's a 15 minute walk due West from Sule Pagoda (the central landmark in the British colonial section of Yangon). There is an entrance fee (probably 4,000 Kyat) which includes one drink. It closes at 2 am. It is open on Saturdays and Sundays (maybe more nights). There were a few non-Burmese. No money boys in evidence.
There are overhead walkways for crossing Pagoda road at both ends of the block. Reputedly money boys hang out on them. Lion World, a restaurant and bar on a balcony connected to one of the overhead walkways (and to a department store above 369) draws some local gays for a snack or beer. It closes early.
9th Floor Disco
On a Saturday night in February, the 9th Floor Disco was jammed with over 200 young Burmese. Loud disco music made conversation difficult, and the lighting challenges anyone trying to identify the number of transgenders among the clubbers. Video screens continually showed football.
The crowd seemed to be 90% gay male, plus lesbian couples and some straights. It was a middle-class crowd. No one was wearing longyis, the ubiquitous Burmese sarong with different colors and patterns for men and women. Basically all the guys were wearing jeans.
9th Floor is located in the Mingal Zei group of buildings, north of the old British colonial area and close to Kandawgyi Lake. Zei refers to a market, but I saw nothing I recognized as a market. Tell the taxi driver that you want to go to JJ Disco. All taxi drivers know JJ Disco. JJ is on the 8th floor. 9th Floor Disco is separate, and one floor higher.
The entrance fee is 4000 Kyat. The entrance fee includes one beer. 1,500 for another. A sign indicated the disco was open Thursday to Sunday. It closes at 4 am. In February I seemed to be the only foreigner. I saw no money boys.
365 Cafe
365 Cafe is located on the ground floor of the Thamada Hotel, due north of Sule Pagoda, and over the railway tracks that mark the end of the British colonial area (just before you get to the Park Royal Hotel). It has been listed as gay in other sources, and looks like the work of a gay interior decorator. But it turned out to lack apparent gays on my visits.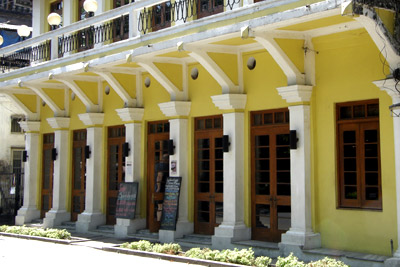 50th Street cafe
50th Street cafe
This is a lovely cafe and bar, in a restored colonial building at 9/13 50th Street, just off Merchant Road. It has pool tables and newspapers. Sand-blasted brick walls and warm wood trim. Very fashionable. Excellent Burmese food and cold beer. No gays in sight when I visited. Maybe they come in the evening for dinner and drinks. It's our kind of place. The Monsoon Café is also very nice, but packed with tourists.
Gamonpwint Mall
The most upscale mall in Yangon is not far from the 50th Street Cafe and the Strand Hotel. The name is in highly stylised Burmese script, with no English signage. Gamon is a flower. Pwint means blooming. It is on Merchant Road, a short walk east of Bo Aung Gyaw Street. You can shop for clothing from Myanmar and China.
Strand Hotel
The colonial era Strand Hotel on Strand Road has been lovingly restored, but the lobby is not grand. It is a nice place for lunch. Rooms are very expensive. Upstairs, J's Irrawaddy Dream, has an upscale collection of fabrics (some old) and lacquerware.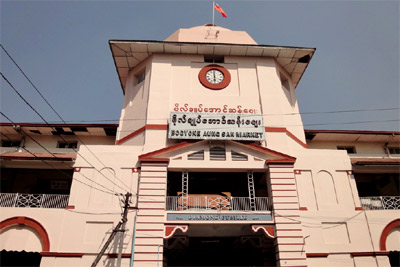 Bogyoke Aung San Market
Bogyoke Aung San Market
Of course the place to shop and shop is the hundred-year-old Aung San Market located on the road bearing the same name, closed on Mondays. The Golden Tortoise has the best quality contemporary lacquerware in the market.
Doug Sanders is a retired Canadian law professor who lives in Bangkok. He can be contacted at sanders_gwb @ yahoo.ca.