According to Pakistan's The Nation newspaper, the country's Supreme Court on Monday directed the National Database and Registration Authority (NADRA) to issue identity cards for transgender people who are also known as eunuchs ot hijras.
"During proceedings in the rights for eunuchs' case, the Chief Justice remarked that eunuchs are Pakistani citizens and they are deprived of their rights because they do not have identity cards. The eunuchs informed the court that NADRA is asking for documentation to confirm their gender before they issue the identity cards. The Chief Justice asked the lawyer for NADRA whether such documentation was also required to issue identity cards to men and women. The hearing of the case has been adjourned for three weeks."
The Indian Express on Wednesday reported that the Supreme Court had issued a directive to NADRA "not to verify the sex of the transgenders through a medical board and to amend its laws to declare eunuchs as she-males."
The case was filed by Muhammad Aslam Khaki, a lawyer who has been campaigning for the rights of transgender people. He told the court that NADRA had set a procedure and verification process that has been described by transgender people as being too complicated.
In a recent BBC report that reveals the difficulties transsexuals face in Pakistan also noted that there has been little opposition to the Supreme Court's decision to officially recognise the estimated 50,000 transgenders in the Muslim nation.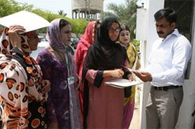 Via BBC
The BBC also reports that the Supreme Court has recommended that transgenders should also be allocated a certain number of government jobs, specifically as tax collectors to utilise their "special skills":
Those special skills are already on display in Clifton one of Karachi's most affluent neighbourhoods.
There Shehzadi joins a group of theatrically dressed, heavily made-up transgenders can be seen sometimes strutting down the wide, quiet, tree-lined streets.
"We knock on the doors of people who haven't paid their taxes," she says.
"We tell them to pay up, but there are some who don't, so we stand on their doorstep and give them trouble and make a spectacle. Then to stop us attracting attention, they pay. I love the job, life's going well!"