Dear Readers,
As this is my first column for 2011, I would like to wish all my readers a Happy New Year! Since this is the first month of the year, I will make a new start. I will begin this year by concentrating on "love and happiness" and the courage to pursue them.
To be able to love someone includes the right to be with the one we choose. "Happiness" would include having the job we like, being loved by our family, friends, neighbours, co-workers and country. It is being treated with dignity and respect. To love someone is also to stand by them, in the face of adversity.
Courage could be relative, some say. It is probably easier for me to speak before a crowd than to jump from a diving platform three storeys high, into the pool. But real courage comes when one needs to rise up to adversity, despite our own fears. It means doing the "right thing" in spite of the odds. This is why leaders are people with courage. They are the ones who first overcome the fears innate in most of us.
Courage usually comes with love.
Courage to love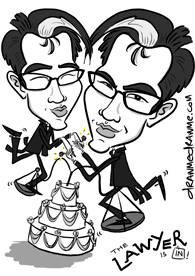 An incident in December last year showed me why USA, despite its economic malaise, is still a world leader. This is its sponsorship to re-introduce the phrase "sexual orientation" into the UN resolution on extrajudicial killings. The Arab and African countries have initially managed to get it deleted in November, by a margin of nine. It was the first time in 10 years that the people with same sex preferences were excluded from the resolution. The resolution implies that an LGBTQ person should not be protected from murder, persecution and torture.
Thankfully, USA, the home of Martin Luther King, lived up to its creed. Susan Rice, USA's ambassador to the UN, is said to be so incensed that she fought to put it back in. It stood by its people regardless of race, language, religion, sexual orientation.
Whilst the Morocco's and Benin's proposal had 79 supporters, USA's motion had 93. Amongst the 10 ASEAN countries, Malaysia, Indonesia and Brunei did not think LGBTQ's lives are of any worth. They voted to have people with different "sexual orientation" excluded. Singapore, together with Laos, the Philippines, Thailand and Vietnam abstained. (See how countries voted in November and December.)
A motion to include "sexual orientation" and, hopefully in the near future, "gender identity" against extrajudicial killings is, politically, one of "safest" no brainers to side. This is because extrajudicial killing is often euphemism for murder, persecution and torture. A vote considering LGBTQs as people who should also be protected, not only shows a country's support for human rights and rule of law but also the society's compassion and humanity. Even the Bahamas, a country where I have worked, a Christian country more conservative than metropolitan Singapore, voted to have the phrase re-inserted.
For Singapore, it would merely reinforce its vision of building a democratic society based on justice and equality. I am sure it will have the support of the majority of Singaporeans. I cannot think of any Singaporean condoning the "drag queens" at Orchard Towers being stoned to death just for their dressing. It is also in line with the speech given by the Prime Minister on the government's policy on LGBTQ in October 2007, in Parliament, during the repeal s377A debate.
I cannot fathom the reason why Singapore would abstain. Letters by Dr Russell Heng of PLU and myself to the Ministry of Foreign Affairs have been ignored. The Ministry did not reply to Dr Heng's request for reasons for its abstention. Given that USA is a considered a "friend" in our international relations and our own internal position on the issue of LGBTQ, the only guess is the position of some ASEAN states. Therefore, I would rather think that it is not the lack of integrity but that of courage, the courage to differ and to stand by its own people, not despite but in spite of their sexual orientation.
USA has demonstrated to me why it can still claim to be "the promised land" for many. The American dream is not just a house and a car but also its belief in rule of law and standing up for it. It is why the Statue of Liberty still shines as a beacon. Despite Singapore's pledge which aims to achieve "happiness and prosperity" regardless of "race, language or religion", our fledging state has much to learn from USA on leadership and what "happiness for our nation" should be.
Should our LGBTQ sons and daughters be expected to "ask not what the country can do for them but what they can do for their country", then Singapore should do what is right by them too. Only then will our Merlion cease to swim aimlessly and rise up from the sea, like the famed "Long Ya Men" (Dragon's Teeth Gate) which guarded our harbours. I look forward to the day when the soul of Temasek glitters like its myth, where each golden sand of Singapura shines with polish from love and courage.
Our nation, the lion city, is not short on courage. I can remember Singapore chastising its host at a dinner in Washington D.C. for not keeping to its trade bargain, after we updated our Intellectual Property law, so much so that George Schultz, the then Secretary of State, walked-out. I can remember Singapore being visited by an Israeli Prime Minister.
This abstention on the UN resolution is because we are short on compassion and love.
The right to love
If Singapore is born out of a vision of "Daring to be Equal", we need safeguard this legacy. We need legalise same sex marriage. We need to recognise our LGBTQ sons' and daughters' right to love. This is a "right to happiness" which no one should be denied. Why should this love be any less? Why should LGBTQ not be allowed to express it like anyone else? Is it a love to be shameful about? Is it a love with no name?
In stating this position, I have Fridae and the readers who wrote in to thank. I do not believe in marriage and, therefore, have ignored the issues on same sex marriage until I sieved through the letters written in. Surprisingly, more than half the letters concerned questions related to "love and happiness", on being with the person of one's choice, rather than pleasure, questions related to sex. They touch on immigration, visitation rights, tax, housing and death. Whilst tax benefits are merely financial, the others have the fearful ability to keep couples apart.
Most of all, I have been touched by the same sex partners who instructed me to draft their wills. As making a will requires lots of introspection and evaluation of our relationship with the people and society around us, their earnestness and love for each other is not any less true than the opposite sex partners I have met. They all try to say, "I want to make you happy in the best way I can, even after I leave this world."
Standing in the way of love is section 12(1), Women's Charter. This section invalidates same sex marriage regardless of where they are solemnised. It is ironical how a piece of legislation responsible for the emancipation of one group of minority, women, is used to oppress another. If marriage is about love, what gives Parliament the right to pass this discriminatory and unconstitutional law invalidating this love? What gives a human being the right to say that you cannot love another human being of the same sex? What gives a human being the right to inflict pain by tearing lovers apart? Is it bigotry or self-importance? If s377A frowns on "free sex", than s12(1) forbids love.
The often repeated excuse is that Singapore is a conservative society. "Conservativeness" is but another word for "closed-mindedness". If social scientists are correct, same-sex marriage is the counter-movement to the free sex revolution of the 60s and 70s. Together with the emergence of HIV, people tired of sexual experimentation began to move away from one night stands and orgies. They gradually move towards one sex partner, love, living together and marriage. They move towards the sexual mainstream, middle-class morality and inevitably the institution of marriage. Why then should such conservative expression of love for another person be invalidated? The only reason for not legalising same sex marriage is the inability to think beyond how we have been conditioned.
I can picture a roomful of octogenarians, in 1996, for this is when s12(1) was passed, decreeing who should marry who, making marital arrangements at birth for everyone, standing in the way of true love. Parliament was playing the wicked parents to thousands of "Butterfly Lovers*". Must we condone marriages just because of "face"? It is the time for the mask to be removed. If beauty is not sex specific, then let true love be not gender bound. Ask any parents who they love more, their sons or their daughters?
[* For those unacquainted with the story, it is a romantic folktale of two ill-fated lovers whose love met parental disapproval. The story starts with two teenage boys falling in love with each other in school in ancient times. However, one of them is a girl, who cross-dressed in order to gain admission to school. It is this writer's belief that the marriage would have ended in disaster had Zhu Ying Tai (the girl) not died on the way to the altar. Liang Shan Bo fell in love with another guy, not a girl.]
Our society needs to accept the beauty of love and not the pretense of "face". If the reason is "society cannot accept", then remember, each of us is a number in society. Our subjective views will and shall become the objective majority.
This is 2011. Fifteen years after Parliament played the "ugly" god. It is now time to abolish s12(1). It is time to embrace the beauty of love and truth. It is time to search ourselves for that courage to do so.
S12(1) is nothing more than a manifestation of age old bigotry and desire to control, to decree who you should marry and love. It is as old as the feudal lord who marries the little slave girl to the crippled farmer. Just like rejecting arranged marriage, we need to reject s12(1).
In 1996, Parliament, by passing s12(1), Women's Charter, showed us that it had neither compassion nor understood love. For love cannot be forbidden. Parliament was inflicting needless pain.
It is now 2011. The time has come to pass where we of the younger generation must put right the wrongs of the older one. S12(1) must be abolished. Love and truth should start from here.
I would like to end by challenging all Chinese readers to either bring their partners home for this Lunar New Year or to show him or her to a friend. For your love has a name. And I invite all non-Chinese to do the same, as you welcome spring with us. There is no need to hide your love in darkness if we have sunlight in our hearts.
Until the next time, I dare you all to love like there is no tomorrow!
Bon Courage!
George Hwang
The Lawyer Is In is a monthly column. In the columns, George Hwang will answer questions posed by readers on subjects such as personal and civil rights, workplace issues, discrimination, immigration, sexuality, lasting power of attorney and estate planning. To submit a question, email editor@fridae.com. Responses will be made by placing your question (without identifying you) in an upcoming column, and answering it there. We regret that questions cannot be answered privately.