Sir Elton John and his civil partner David Furnish, who joined in a civil partnership after a 12-year relationship, welcomed Zachary Jackson Levon Furnish-John who was born to a surrogate in California on Christmas Day, according to Us Weekly.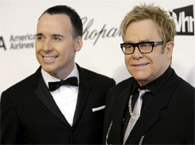 Sir Elton John (right) and his civil partner David Furnish
"We are overwhelmed with happiness and joy at this very special moment," the pair told the magazine about their 7-pound, 15-ounce infant. "Zachary is healthy and doing really well, and we are very proud and happy parents."
It was not revealed who the biological father was, or the identity of the surrogate mother.
Last year, the couple tried unsuccessfully to adopt a 14-month-old HIV-positive orphan in Ukraine, but were denied by government officials who said John, 63, was too old and that his partnership with Furnish, 48, was not recognised in their country.
Changes to British law earlier this year, however made it possible for the first time for two men to be named as parents on a child's birth certificate.
They join a growing list of gay celebrity fathers including Ricky Martin, Neil Patrick Harris and longtime partner David Burtka, Clay Aiken, and B.D. Wong and longtime partner Richie Jackson.