2009 saw the first national transvestite pageant in Myanmar. Now, in 2010, there are two camp gay movies.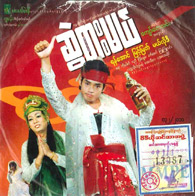 Swae Sar Mae DVD
In
Swae Sar Mae
, which my gay guide translated roughly as "Really Eating You", the central character is a cross-dressing older Auntie, taking care of a Nephew and a Niece. The Nephew is a useless drunk. Sweet Niece wants to marry Charming Boy. Charming Boy, however, is the son of Auntie's first husband – who dumped Auntie for a real woman.
Auntie, the "first wife" as she taunts the second wife, will have nothing to do with this family, and forbids any marriage. First Wife and Second Wife snap and bite and bitch whenever they see each other. The story goes through different attempts to overcome the barriers, starting with a failed elopement.
One day Auntie is having lunch at a café, when a waiter harasses Cute Boy at a nearby table. Cute Boy cannot pay for his meal. He has a tragic story of being kicked out by his parents. Auntie is charmed, denounces the waiter, pays for the meal and takes Mr. Cute Boy home. Niece and Nephew are convinced that Cute Boy is trouble. Auntie will have none of it, clearly intending to bed him. The maid wants him for herself, but Auntie makes it clear that the maid may get pregnant. Auntie faces no such risk.
Ooops. Cute Boy lets in two other guys, and Auntie, Nephew and Maid are bound and gagged. Cute Boy grabs Sweet Niece and forces her into the next bedroom. There, we gather, she is raped. Now she has been ruined, and has no prospect of marriage. Tragic!
But there is hope. Charming Boy is prepared to marry her, in spite of the shame. Clearly this is the only prospect for Sweet Niece, so Auntie has to agree. Charming Boy is in such a strong bargaining position that he makes the marriage conditional on Auntie promising to change her life.
The film ends with the engagement party. Both families are there. Auntie comes down the stairs dressed (sort of) like a man. He/she struggles to drop the feminine campiness that we have been laughing at for an hour. It is a painful struggle, but he/she has promised, and it is the only solution for his darling, but deflowered Sweet Niece.
But then Cute Boy shows up, to reveal the truth. There had been no rape. The whole event had been staged by Charming Boy's friends to get Auntie's consent to the marriage. The consent cannot now be withdrawn, so the happy couple will marry. But Auntie's promise to change her life is another matter. Auntie immediately becomes outrageous Auntie again.
So we have a happy, camp ending. Everybody gets to be what they want to be.
Yan Aung played Auntie. Myint Myat played Charming Boy. Both are very well known movie actors in Myanmar. The director was Jaman.
Jaman directed the second gay movie for the same studio, again with Charming Boy Myint Myat as lead. He is really cute. While I saw the first movie (and my gay guide translated), I only have my guides recollection of the second film (and he could not remember the title). In August we could locate a DVD of the first, but not the second.
In the second movie, Tom Boy, thinks she is a male, and pedals a trishaw for a living (a male occupation). Flower Boy is a gay boy who sells flowers for a living. They fall in love, but both are troubled by this homosexual attraction. They work it out in the end, realizing that they are in a heterosexual relationship.
Both these films were shown in regular movie theatres. The first, like The Birdcage, centres on a heterosexual relationship that is in danger of being blocked by problems between the two families. Auntie is clearly the star, but heterosexuality wins out for the young couple.
The demand that Auntie change her life I found really surprising, but the reversal at the end restored her Queenship. There is, of course, a sequence in The Birdcage in which the Queenie mother tries to dress as a man (and fails miserably to be convincing). Instead, thanks to twists in the plot, she winds up playing the real mother, as far as the other set of parents is concerned. The second film reminds me of Victor/Victoria where a homosexual relationship turns out in fact to be a heterosexual one.
So both films have a validating heterosexual central story line. There are no gender-normative gays or lesbians. Gay means trans. Trans means comedy.
Douglas Sanders is a retired Canadian law professor living in Bangkok and a member of the ILGA communications team for Asia. He can be contacted at sanders_gwb @ yahoo.ca.