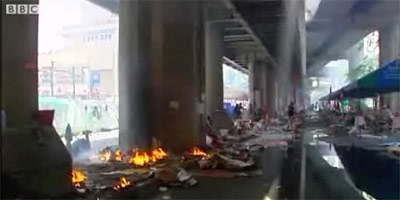 BBC: Protesters set fire to areas outside shopping malls in
central Bangkok as they left


Bangkok, May 19, 2010. Early afternoon.
As many know, there are two areas of gay bars in the main shopping and host-bar area of Bangkok, involving parts of Silom and Suriwong Roads, and the famous Soi Patpong. The fighting between the government forces and the Red Shirts is intense at the moment in Bangkok. It has not resulted in any violence in the gay bar areas.
On Thursday, May 13, around 8 pm, a grenade was launched that hit the Saladang Skytrain station on Silom road. Apparently it came from behind the Red Shirts Barricade that blocked the road leading north from the Rama IV / Silom intersection (where the well known Dusit Thank Hotel is located, as well as the main entrance to Lumpini Park).
Nearby is Silom Soi 4, the small side street that has some of the best known gay bars and restaurants – Telephone, Balcony, Sphinx. The gay venues were told by the military to close after the grenade attack on Saladang station and Silom Road was blocked off to prevent Red Shirts moving south into the Silom business area. The night markets on Silom Road and Patpoing Soi were deserted.
After Soi 4 was closed, I walked over to Suriwong Road, which runs parallel to Silom. The main gay bar area there is on a small soi (side street) often called Soi Twilight (though the pioneer Twilight bar is long gone). The bars and restaurants were functioning, though the numbers of tourists, both Asians and non-Asians were pretty limited.
The manager in Dick's Cafe was watching television coverage of events on his laptop. Yes, he knew that Silom Soi 4 was now closed. But this was Suriwong! It was only a 10 minute talk to the Red Shirt / Army standoff at Rama IV and Silom, but there were no soldiers on Soi Twilight.
Friday and Saturday night the larger gay host bars on Soi Twilight were closed. The owner of Dream Boys said it was too expensive to run the air conditioning when there were almost no customers. Police or military had not told the bars to close, and two or three were operating, though desperately short of clients.
The government gave the Red Shirts a deadline to leave the protest sites by Monday afternoon, May 17. Monday and Tuesday were declared holidays, with government offices and schools closed. Now Wednesday and Thursday are also holidays. Television today has shown army tanks (armoured personnel carriers with machine guns mounted on top) dismantling Red Shirt barricades. Black smoke from burning tires spirals up from four or give locations, as Red Shirts try to protect their remaining areas.
The Skytrain and the Subway have been closed for at least five days now. The army have sealed off a large area around the Red shirts encampment, and are blocking any supplies coming in. Red shirts can leave the area, but not re-enter. Ten days ago I had wandered through the Red controlled areas with no problems, from police, army or Red Shirts. The Red Shirts had been able to move in large generators, so they would have power even if electricity was cut off in the area. Now the area is sealed off.
The government is providing transportation for Red Shirts to return to their home areas, and many individuals have left the protest sites. The government is also providing transportation for non-Thais who may still be in the area, with announcements in English on television today by a lead government spokesperson. Embassies are asking their nationals to take no risks. Stay home they say.
Breaking news says that hundreds of armed police are forming lines on Sukhumvit road, which leads into the main protest site, backed up by some 20 police vans.
Maybe this will be over in a couple of days. But we have been expecting an end to the confrontation for many weeks now.
Douglas Sanders is a retired Canadian law professor living in Bangkok. He can be contacted at sanders_gwb @ yahoo.ca.