Roxas Boulevard is a sweeping ten lane freeway along the shore of Manila Bay, marking the western edge of the dozens of cities and neighborhoods that make up Metro Manila. The chaos of the Malate district, once a girly bar area, is largely hidden behind a strip of luxury hotels, bourgeois condominiums, the central bank, the ministry of foreign affairs and an art museum.
South on Roxas Boulevard, where the luxury ends and the sprawling Baclaran Market stocks a mountain of cheap jeans, you can find the large White Bird macho dancing bar, facing across Roxas Boulevard towards the massive land fill area that was the pride and joy of then first lady Imelda Marcos (Our Lady of the Shoes).
Macho dancing seems to be a Philippine invention. The earliest gay movie from the Philippines to get international notice was Macho Dancer (1989). There have been at least three follow-ups: Sibak / Midnight Dancer (1994), Burlesk King (1999), Twilight Dancers (2006) and Boy (2009). There are other kinds of venues for gay men - saunas, dance bars, massage parlors, and discos - but it is the macho dancing bars that seem unique to the Philippines.
The dancers in the main bars typically wear calf-high leather boots, with a prominent row of buckles. If they can't afford the real thing, they wear cowboy boots. They dance to slow music, and shed some clothing. At White Bird they may get down to a single hand held black sarong that playfully keeps the genitals out of sight. The dancers are usually in their twenties, with soft bodies. No gym-bunny muscle-boys in sight. No lady boys either. Only the managers, who take care of customers, are cross-dressers. At some bars there are lip-sync transvestite performers.
My friend and I are at White Bird rather early. It is only 10.30pm. These bars go to 3, 4 or 5 in the morning, and little happens before 11pm, or midnight. At the few tables that have customers, there are small groups of women. We have paid a substantial entrance fee - 400 Philippine Pesos each (US$8.50), no drinks included. Immediately we are presented with two drinks each, the required opening order.
A dancer can join you at your table. You buy him drinks (at a price above that for your own drinks). At White Bird you cannot pay an "off" fee or "bar fine" to have the dancer leave with you. Prostitution that implicates the bar is taboo. If the dancer is seen meeting you outside after the bar closes, he may be fired. So I was told.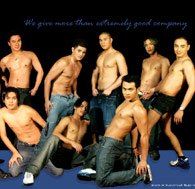 "We give more than extremely good company" says advertising material on White Bird bar's web site (whitebirdbar.com). Top of page: Image from Auraeus Solito's latest film Boy (2009).
Maybe a dancer will meet you at your hotel the next afternoon. Many dancers will not even do that. They are "straight." Some dancers may be "bisexual." None, it seems, will call themselves "gay" – which would signify effeminacy. In two or three bars the manager said all the dancers were "straight." In the film Burlesk King a bar manager says he wants no dancers who are "gay." A new bar has just opened in Cebu City in the central Philippines where, it is said, all the dancers will be "bisexual." This was held out as something completely new in the world of macho dancing bars.
In the economics of host bars in Bangkok, prostitution is central - both for the income for the bar (the off fee) and for the dancer (the direct payment to the worker for sex). In the Bangkok bars with shows, many customers will just come for the show, so much of the bars income comes from high priced drinks. Sometimes there are entrance fees at show bars on weekends, but they buy one or two drinks.
In the macho bars in the Philippines, income is from entrance fees and drinks. The dancers are paid by the bar to dance each night and they will get a cut on the drinks that customers buy for them. Prostitution either does not feature in the arrangements or seems a minor part of the income of the bar and the dancer.
Somewhat similar are bars in Montreal, and one in Toronto, where buff males dance. They will do table dances as well as lap dances in small private rooms. The dancers are directly paid for the table and lap dances. Some may meet a customer later, but there are no "off" fees and dancers may be straight. There is no idea of a dancer joining a group at a table and having drinks.
In a second large Manila macho dancing bar, Mr. Valentine, located across the street from the large Robinson shopping mall in the central area of Malate district, it is possible to pay an off fee. But there seemed so much confusion over this (including, I think, a different fee for foreigners than for Filipinos), that an arrangement made was for the dancer to come to a hotel after the bar closed at 3am.
A few years ago, my friend and I went to the large transvestite cabaret show "Amazing Philippines" in the large land fill area on the Manila Bay side of Roxas Boulevard, behind the Marcos-era Philippine Cultural Centre. The audience was 99 percent young Korean honeymooners.
In Cebu city, on this last visit, we went to four or five macho dancing bars. Cebu is a big tourist destination for Koreans. You can fly there directly from Seoul. In each macho bar there were small groups of Korean women. Often they had a dancer sitting with them. Dancers, when they get customers to socialise with, will down their drinks rapidly. The more they drink the more money they get.
Are these places "gay bars"? A couple of bars had signs outside that described themselves as "gay" bars. Most did not.
Most of the dancers are "straight." This is said, as well, of the bar boys in Bangkok. The hosts or dancers in Bangkok will all go with male customers. Only some special performers will not. Bangkok hosts seem unconcerned with the labels of gay / straight / bisexual. They will be concerned with top/bottom, king/queen, active/passive. In contrast the macho dancers are very concerned with gay / straight / bisexual, and many (perhaps most) will not go with male customers (even if assured that they will be 'top').
Most of the customers in the macho bars are women. They are having a racy 'ladies night out' with girl friends. Some are female tourists, typically from Korea. They have dancers join them at their tables, but leave alone.
White Bird, Mr. Valentine and Big Papas, all in Metro Manila, are one end of a spectrum of bars. Perhaps six smaller bars are scattered around in the metropolitan area. There are perhaps five bars in the greater Cebu area. After diligent research my friend and I found small macho bars in Zamboanga and General Santos City, both in the southern island of Mindanao.
While the Bangkok bars are often called "host bars," perhaps we can call the macho dancing bars 'party bars.' Most customers come to watch the show. They party with a dancer or two at their table in the bar. "Offing" a dancer is possible with some dancers at some bars, but is not the general pattern.
The large prominent bars are clearly mainly for women customers. The smaller, less visible bars seem more likely to have male customers. A guy looking for an "off" will find life frustrating, but may score. Ladies, wanting to party, can have fun.
The macho dancer films: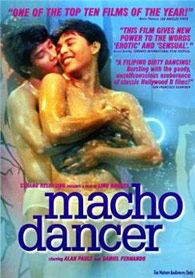 The late Lino Brocko is generally considered to be one of the Philippines' best known filmmakers.
Macho Dancer (1989) directed by the late Lino Brocka, was banned in the Philippines.
Midnight Dancers (1995) was a follow-up to Macho Dancer, by Brocka's onetime assistant Mel Chionglo.
Burlesk King (1999) directed by Mel Chionglo. The sex scenes are mainly hetero. The hero is haunted by memories of abuse by his American father. Unusually, there are strong supporting roles for a lesbian couple.
Twilight Dancers (2006) again directed by Mel Chionglo. The film premiered at the Toronto International Film Festival (which had earlier showed Macho Dancer, Midnight Dancers and Burlesk King). Twilight Dancers was rated X by Philippine censors.
Brilliante Mendoza, a producer of Twilight Dancers, directed Masahisia / The Masseur (2005) and Serbis / Service (2008). Both deal with male sex work, but not macho dancers.
Boy (2009) is director Auraeus Solito's (The Blossoming of Maximo Oliveros) self-described (in a Fridae interview) tribute to Macho Dancer by Lino Brocka. The film tells of an unnamed teenager who accepts himself and his sexuality when he falls in love with a macho dancer. It was to have its world premiere at the Singapore International Film Festival this year but was banned by the censors for "normalising" homosexuality and a "prolonged and explicit" homosexual scene which was filmed in a "romanticised manner."
Sometimes these films are dubbed 'poverty porn' for their depiction of innocent young guys from rural poverty getting caught up in a swirl of sleaze, corruption and crime. A Filipino commentator said of Philippine gay movies: "In the 70s, gay films always had this theme of guilt at being homosexual. Then in the 80s, gay people were always portrayed as the exploiters of handsome Filipino boys who would then become exotic dancers or call boys." More recently a number of gay movies from the Philippines have broken from these stereotypes.
Douglas Sanders is a retired Canadian law professor living in Bangkok. He can be contacted at
sanders_gwb @ yahoo.ca
.