Come Saturday, girls who look like boys, boys that look like girls and anyone in between will "flaunt (their) fabulousness, in solidarity with all other fabulous creatures out there who love and adore fabulousness," says Tomboys and Angels co-organiser Jerome Kugan.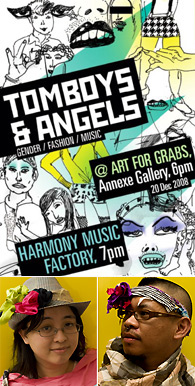 Above: Tomboys and Angels set designer Lainie Yeoh (left) and co-organiser Jerome Kugan; event poster. Top of page: Event props, 'pengkid' is a Malaysian slang taken to mean tomboy or butch lesbian. Photos by Johnny McGeorge. Poster design by Jun Kit.
When asked by Fridae if the event is to protest the
fatwa
(religious edict) against "tomboys" issued by Malaysia's National Fatwa Council in November, Kugan says the event is not (just) a protest.
"Because the show is not aimed specifically at attacking the
fatwa
on tomboys or the Fatwa Council's narrow-minded view of human gender and sexuality. Instead, we would call it a celebration of diversity and individual styles within our society, which incidentally includes many, many tomboys and angels." The singer-songwriter-poet explained.
The show, which is held in conjunction with Art For Grabs Xmas Special at the Annexe Gallery where Kugan works as its media manager, is set to feature "some of Klang Valley's most interesting everyday people with wicked sense of style and personalities" including Pang Khee Teik, organiser of Sekualiti Merdeka; style blogger Joyce Kirsten Wong; actor-director-writer Fahmi Fadzil; photographer Myra Mahyuddin; activist-writer Michelle Gunaselan; activist filmmaker Mien Lor; chanteuse Janet Lee; among others.
Graphic artist and well known blogger Lainie Yeoh has been tasked with ensuring that the above mentioned personalities will have a catwalk - advertised on Facebook as an "installation that mixes politics and irreverence" - to strut down.
Last month, Yeoh and fellow members of Katagender and Food-not-Bombs, who protested against the fatwa against tomboys by taking to the streets, earned their street cred when they were labelled a threat to national security by Malaysia's Police Chief Musa Hassan.
Jerome Kugan reveals more about the event on Saturday, Dec 20.

On where they got the idea for the event
Jerome: Initially, we just wanted an excuse to dress up and have fun because we're just such hopelessly fabulous creatures here at The Annexe Gallery. But then this whole tomboy issue came up which just infiltrated our harmless vain ideas with political intrigue. Of course we got energised. We don't believe in some bearded clerics with no sense of style telling our wonderful friends how they should or should not behave. It's simply an abomination against the basic human right to be fabulous. So now here we are trying to dress up our friends like neo-shamans to exorcise "Poof!" these anti-lesbian sentiments. Fools! Who do they think we are?
On who should come and who should stay home
Jerome: Those who imagine that there's going to be a free flow of champagne really need a reality check. This show is being put together with a budget of RM300. None of us are getting paid for being fabulous... but then again, all the attention that will showered upon our fabulousnesses is payment enough for us. There will be a catwalk show featuring fabulous everyday people (including some very fine-looking friends of ours, who are writers, bloggers, dancers, pop stars, journalists, etc) as models, catwalking and strutting their hot booties to a soundtrack of (that totally inspiring legend!) Nina Simone's songs. The catwalk itself will be a work of art, made from media trash and hot pink duct tape! The clothes will be a mix of precious things from the Art For Grabs market stalls, styled up to the max by our team of young activist stylists and make-up artists Jun Kit and Ooi Ying Nee! It's going to be very punk and street chic. The whole fashion extravaganza will last for about 20 minutes, after which the whole catwalk will be turned into a two-hour twilight dance party called "The Harmony Music Factory" (in homage to London-based, Malaysia-bred author Tash Aw, whom I have a terrible crush on), with an alternative bent. Gym bunnies who want handbag house should go home. We love our electroclash and old skool rock!
The Annexe Gallery presents
TOMBOYS & ANGELS
Fashion Show @ Art For Grabs Xmas Special
Sat 20 Dec, 6pm
THE HARMONY MUSIC FACTORY
Feat. DJs Ribut 10:59 and Bunga (from Twilight Action Girl) spinning for the first time alongside Sarchan and JK (from WILD! and Disko Darurat)
DJ Dance Party @ Art For Grabs Xmas Special
Sat 20 Dec, 7pm to 9pm