Singapore's neo-conservatives like Thio Li-Ann can rant against gays all they want. But there is one frontier where they have long lost the battle - TV land.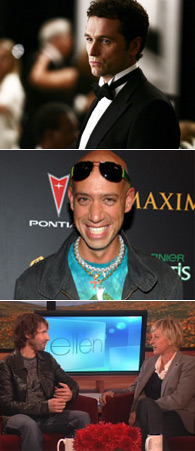 From top: Matthew Rhys plays a gay lawyer in Brothers & Sisters; RobertVerdi, the openly gay co-host of Fashion Police; and singer James Blunt with gay comedian-actress Ellen Degeneres on her show.
There are so many openly gay characters and stars on TV these days that you can't watch television without seeing at least one queer every day.
Last week, on a deadline to finish a project, I spent every night at home working on my laptop. As always, I leave the TV playing in the background so I won't feel alone. And every night, without fail, a gay person would pop up on Channel 5 to entertain me and millions of other TV viewers - without making a whole lot of fuss about his/her sexuality.
On Monday night, I watched my favorite drama
Brothers & Sisters
where Kevin the gay lawyer tried to work out his issues with his closeted boyfriend Chad. As expected, Channel 5 had to censor the kissing scenes and any dialogue hinting at gay sex. But what was left made it quite clear that Kevin is gay, that he actively dates men, that his family knows he's gay, and that they accept and love him completely.
Spoiler alert.
And if you don't already know,
Brother & Sisters'
season finale will also reveal that Uncle Saul is - gasp - gay too.
On Tuesday night, I saw
Fashion Police
where the fabulous bitch of a host Robert Verdi tells me why I will never be able to look like a celebrity. This was followed by
Grey's Anatomy
whose cast includes the openly gay actor T.R. Knight. He plays a straight doctor named George who was often mistaken for gay in the first season but ended marrying a female colleague anyway. (It's okay, he's not that cute.)
Wednesday night was a bumper night for gay spotting. On the hilariously skanky
The Pussycat Dolls Present: The Search for the Next Doll
, a swishy male choreographer appeared in a T-shirt two sizes too small, snapped his fingers and screamed out his commands to the poor pussies. After midnight, there was a very gay episode of
Boston Legal
where the slightly effeminate Judge Clark Brown sued an ex-gay organisation for claiming it could cure him of his "same-sex attraction disorder." Brown won the case and was awarded US$350,000 - a sort of gay legal fantasy that only exists on American TV. And after that, there was a rerun of
Project Runway 2
where almost half of the contestants are queer.
On Thursday night, I turned off the TV so I could concentrate on my work. I switched it on for a while to catch one of my favorite sitcoms
Less Than Perfect
on Star World (Starhub Channel 18). And whaddaya know? It was a gay episode too! Former TV stars Valerie Harper (
The Mary Tyler Moore Show
) and Joanna Kerns (
Growing Pains
) guest-starred as Owen's two lesbian mothers who had come to visit him at work. When Owen's male boss confessed to having issues with women, Joanna offered to counsel him by saying: "Who knows the soul of a straight man better than a lesbian woman?" Hear, hear!
Finally, on Friday night, I stayed up till 2am to finish my work and ended up catching an episode of
The Ellen Degeneres Show
. Now I rarely watch
Ellen
. But when I do, I am truly amazed at the fact that this woman came out of the closet in the 1990s, saw her career collapse because of it, picked it up and rebuilt it brick and brick, and has today become the most successful daytime show host after Oprah, with more fans than she's ever had in her life.
On this particular episode, Ellen interviewed singer James Blunt and asked about his love life:
Ellen: So are you dating anyone right now?
James: No, but I'll give you my number later.
(Ellen gives her audience a bewildered look.)
Ellen: Um, James, I'm gonna have to tell you something about myself later backstage.
(The audience laughs affectionately.)
James: Well, you know, I am actually very effeminate.
(The audience laughs some more and clap their hands.)
Two celebs make gay jokes and the mostly straight audience cheers them on. Talk about climate change.
Of course, all these shows I've mentioned on Channel 5 are imported from the US, where the strength of the gay lobby and the surfeit of gay people in the creative sectors almost guarantee gay representation in TV shows. Our own Singapore-made productions on Channel 5, Channel 8, Suria and Arts Central don't have any openly gay persons. Some have outrageously campy characters and hosts. But none of them are openly gay like Ellen, or Kevin from
Brother & Sisters
, or Mark from
Ugly Betty
.
Still, the fact that we get to see Ellen and Kevin and Mark represents a major change.
About 15 years ago, Channel 5 showed
Beverly Hills 90210
, a popular teen series. One episode featured a gay boy whom Kelly had a crush on and tried to seduce. It was such a sensational TV moment that it created a minor hoo-ha in the newspapers even before it aired. When the episode did air, much of the scenes had been cut and what was left didn't make sense.
Today, an episode like that would go largely unnoticed. And that is the way it should be.
After all, many of us are convinced that homosexuality, bisexuality and transsexuality are as biologically normal as heterosexuality. Indeed, when the day comes where a character's sexuality becomes completely irrelevant to TV audiences - as Ellen's sexuality is irrelevant to her audience - that may be the day when gay activists can finally take a seat and breathe a sigh of relief.
Meanwhile, some of us need to sit down and figure out the answer to a crucial question: How do we get Thio Li-Ann to watch
Ellen
?