Thirty-something couple, Jann and Wei, who have been together for two years were ecstatic when the Government announced that two non-related parties can now jointly purchase a private residential home using their Central Provident Fund (CPF) savings or pension funds.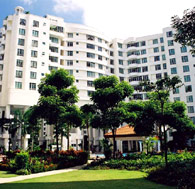 "We've been mulling over buying a condo unit together for some time but have been unable to do due to previous restrictions on using both our CPF monies," Jann said. "It's wonderful that we now utilise our CPF funds as not being able to do so would really limit our options."
In a surprise announcement on Tuesday, the Government revealed that two non-related parties such as same-sex couples can now jointly purchase private residential properties using their pension funds as a longstanding rule that prohibits non-related parties from using their CPF savings jointly in the purchase of private properties was lifted.
The move is part of its package of policy changes relating to the property market announced by Singapore Minister of National Development Mah Bow Tan in parliament.
Previously, only joint owners who are immediate family members (i.e., spouse, children, siblings and grand-parents) may utilise their CPF monies in the purchase of a private property. Same-sex couples who wished to finance their property jointly could only do so if they were both unmarried Singapore citizens, 35 years of age or above and purchased a Housing & Development Board (HDB) or public housing flat from the open market.
The measure attracted garnered some debate. According to the Singapore
Business Times
, Ho Geok Choo (West Coast GRC) asked in parliament if the new CPF ruling went against the Government's 'pro-family policy' and if making CPF savings available to non-related singles for buying private property would "promote homogenous gender or heterogenous gender" partnerships.
National University of Singapore Environmental Management Programme director (School of Design and Environment) Dr Malone-Lee Lai Choo, said in reply, "If people want to live together, they don't need to buy their own property to do it."
The longstanding rule that only single citizens who are at least 35 years old can purchase a HDB flat from the open market remains unchanged.
The new regulations would also permit foreigners to buy apartments in non-condominium developments with fewer than six floors in addition to condominium units - although they will still need approval to buy landed property.
As there appears to be no restriction on the use of CPF savings by non-Singaporeans, it is expected that non-related singles, Singaporean or not, would be allowed to use their CPF savings to jointly purchase private residential property.
Foreigners seeking permanent residency (PR) status can now invest up to S$1 million (US$590,000) in a private residential property as part of the S$2 million they need to invest in the city-state to be considered for PR, provided he meets other conditions.
Under the revised regulations, buyers will be able to borrow up to 90 per cent of the total purchase price instead of the previous 80 per cent for both private and public residential properties. Cash downpayments will be cut to five per cent from 10 per cent, with the remaining paid from the buyer's CPF account. For HDB flat buyers, the cash downpayment now at four per cent - which was originally planned to reach 10 per cent in 2008 - will be capped at five percent from 2006.
Buyers can now tap on their CPF savings to buy properties with remaining leases of between 30 and 60 years. Previously, buyers could not use CPF funds to buy 99-year leasehold properties with less than 60 years left on the lease. CPF withdrawal limits for the purchase of such properties will however be pegged to the age of the purchaser and the remaining lease of the property to ensure that an owner will not outlive his property, based on the average human lifespan of 80 years.
Nearly all the policy change will come into effect immediately.
Property-related stocks on the Singapore stock exchange soared to multi-year highs yesterday as analysts called the move an effort to revive one of Asia's most sluggish markets.
Mah however maintained that revising the policies was "neither to boost nor depress the property market" but changes "from time to time is necessary to ensure their continued relevance to broader social and economic objectives" and to "improve structural rules" and "functioning of the property market."
Observers say gays and lesbians living in Singapore will greatly benefit from the change in regulations, especially the large number who are in long-term relationships. Now that they are newly eligible to combine their incomes and CPF to purchase private residential property, developers and those selling their property are likely to see a spike in gay and lesbian couples shopping for their first home. This will apply across the board to all classes of property, from economical to high-end luxury developments, as there is a broad range of income levels in the gay and lesbian community.
In 2001, Fridae polled its gay and lesbian members residing in Singapore. Of the 595 respondents, 39 per cent declared that they were "attached" or "living with partner." Furthermore, 40 per cent of the respondents who were in relationships have been with the same partner for more than six months at the time of the survey.
The same survey revealed that a high proportion of respondents lived with parents, while only 22 per cent indicated that they own or rent their homes. This is despite the relatively high income levels of the respondents, with 50 per cent earning more than S$80,000 (US47,00) per annum - 20 per cent reporting income levels of more than S$180,000 per annum, 11 per cent between S$120,000 to S$180,000 and 19 per cent between S$80,000 to S$120,000.
The low percentage of home ownership is thus likely a direct result of regulations that have until now restricted non-related singles from jointly owning private or HDB property.
Some 80 percent of the 4.5 million people in the city-state live in public housing. Ninety-three percent of the population owns a home - the highest ownership level in Asia.