Gay communities across Asia are rapidly trying to mobilise against HIV - but with minimal resources and flaccid government support. The 7th International Conference on Aids in Asia and the Pacific (ICAAP) held in Kobe, Japan, from Jul 1-5 allowed an assessment of where we are at across the Asia Pacific region. Don Baxter, Executive Director of the Australian Federation of AIDS Organisations (AFAO), provides this overview.

"The energy emerging was extraordinarily heartening," said Don Baxter, AFAO`s Executive Director. "The Gay-MSM Satellite workshop had 70 registrations beforehand but 300 people turned up! Other gay-MSM sessions in the Conference were also well-attended."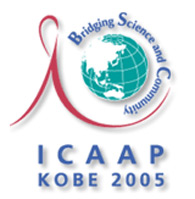 An HIV/AIDS billboard advertisement in Beijing.
The half-day Satellite titled 'Challenges in establishing and implementing gay-MSM prevention programs in politically difficult environments' was organised by AFAO and its co-partners: OCCUR Japanese Gay and Lesbian Association and Family Health International.
Speakers from Vietnam, China, Japan and Nepal spoke about the challenges they face. The audience, primarily gay men from 17 Asian countries, then broke into small groups discussions - all-too-brief for the range of issues facing us all. In many of these countries, for instance, community organisations cannot even be legally established without government sponsorship and close oversight. In Vietnam any meeting of more than five people requires a government permit.
Sunil Pant from Nepal's Blue Diamond Society gave an electrifying presentation on doing gay community work in the midst of a civil war. Graphic slides of Nepalese gay men regularly bashed by the Nepalese security forces and police devastated the audience.
Disturbingly, the latest regional statistics of HIV prevalence presented at the Satellite show prevalence rates in many Asian gay communities approaching or already past the 'take-off rate' of two per cent for a major epidemic within the gay community. Bangkok is already beyond 17 per cent - approaching that of inner Sydney. Vietnam's Ho Chi Minh City appears to be 8 per cent; most major Chinese cities are reporting one to three per cent.
But the exciting and innovative prevention programs reported are in their early stages - often operating largely voluntarily and in some cases only semi-legally.
"The eagerness, energy - and bravery - of many of the guys at the workshop was admirable," said Baxter. "If governments and international donors can make funds available immediately - and quite modest amounts can go a long way at this stage - then many cities will be able to avoid devastating epidemics in their gay communities," he said.
The outlook is not all bleak. Baxter had seen similar energy and commitment in Beijing the previous weekend at a national gay and lesbian health, HIV and human rights.
AFAO and the Levi Strauss Foundation co-funded the three-day workshop bringing together over 70 gay and lesbian activists from most of China's major cities. One-day sessions were held on HIV treatments, gay websites (China has more than 300) and lesbian health and activism. Two days were then spent on considering establishing on national organisation to represent the Chinese Tongzhi (gay and lesbian) communities. The meeting decided to institute a nation-wide consultation process to build support for the national organisation proposal.
---
"With the Chinese government rapidly changing its approach to the HIV epidemic AFAO was pleased to assist our Tongzhi brothers and sisters moving to a position where they can influence the central government to adopt the best possible policies," Baxter said. "This is a novel development for China - and another illustration of how HIV changes the way governments need to operate," he said.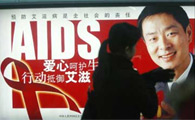 An HIV/AIDS billboard advertisement in Beijing, China.
As an indication of the changes underway the Chinese government brought Chengdu gay HIV activist Xiao Dung to Kobe for the ICAAP Conference China Forum, along with a sex worker and an injecting drug user. The China Forum was led by Chinese Vice-Minister for Health, Wang Longde; Xiao Dung and his other community colleagues provided extensive input and discussion with Vice-Minister Wang Longde before a large international (Chinese-speaking audience). Such a move would have been unimaginable only 12 months ago, Baxter said.
Many other Asian governments however, are moving culpably slowly, not least the Japanese government, hosts of the ICAAP Conference. Many ICAAP participants were shocked to learn of the Japanese government's abject failure to fund any comprehensive HIV program in the gay community - yet that community is where 60% of the new infections are occurring; a fact the Japanese government consistently fails to mention, including in the Opening Plenary speech. Even UNAIDS Regional Director, Prasada Rao, felt it necessary to publicly criticise the host government
Surprisingly, the Thai government has similarly failed to act as yet on the appallingly high rate of 17 per cent seroprevalence in Bangkok, even though it has known about it for two years. On the other hand, Baxter said it appears Vietnam is now moving rapidly to allow the establishment of HIV community organisations.
In another promising development, announced at the Kobe ICAAP, the Naz Foundation in India appears to have successfully negotiated funding for a major regional conference in 2006 aimed at providing a forum for key gay-MSM HIV activists to influence political decision-makers and donor agencies towards a comprehensive and vigorous program in gay-MSM communities. Planning is in its early stages.
Baxter also noted that the Asian Queer Studies conference held in Bangkok from July 7-9 would provide an opportunity to keep the momentum seen at the Kobe ICAAP going.
"Asian gay communities need programs developed on the basis of good social research," Baxter said. "The Asian Queer Studies conference comes just at the right time to identify and encourage Asian researchers and to build support for what is still considered controversial work in many Asian universities," he said.
Don Baxter is the Executive Director of Australian Federation of AIDS Organisations.