John Paulk, a self-described ex-gay has announced on Monday he is resigning from Colorado Springs-based Focus on the Family to move with his wife and three sons closer to family in the Pacific Northwest.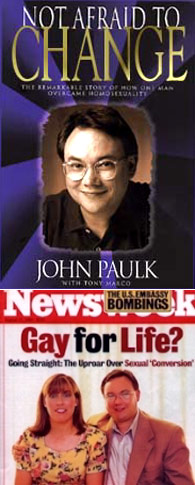 John Paulk's media credentials include a Newsweek cover feature (with his ex-lesbian wife Anne), a series of religious right-sponsored ads that appeared in newspapers across the US and his 1998 autobiography, Not Afraid to Change: The Remarkable Story of How One Man Overcame Homosexuality.
"My time at Focus on the Family has been the most rewarding professional and ministry experience of my life. I will always have a heart for men and women struggling with homosexuality, but after working 16 years on this contentious issue, it's time for me to pursue other endeavours," Paulk said in a statement released Monday.
The 40-year-old, who joined the conservative Christian group in 1998, will leave his post as manager of the Homosexuality and Gender Department at FoF, on May 6.
Paulk and his wife, Anne, who claims to be a former lesbian, drew national attention in 1998 for appearing on the cover of Newsweek and full-page ads in newspapers like the New York Times and Wall Street Journal with messages about "overcoming" homosexuality and appearing in
Oprah
,
60 Minutes
and other TV shows.
They promote the belief that gays and lesbians can leave homosexuality through prayer and counselling, a belief rejected by the medical establishment.
In 2000, Paulk caused a scandal after being spotted and photographed in a gay bar in Washington, D.C. He initially said he didn't know it was a gay bar, but later admitted he knew. Later, he claimed that he had gone in to use the bathroom although other patrons said he spent nearly an hour at the bar.
Paulk was removed (but later reinstated) as chairman of Exodus International, an interdenominational Christian organisation with chapters around the world including Singapore and Australia. The incident was also a major setback to the "ex-gay" movement.
Paulk is the author of "Not Afraid to Change: The Remarkable Story of How One Man Overcame Homosexuality" and co-creator of FoF's
Love Won Out
seminars.
Mike Haley, who helped create
Love Won Out,
will take over Paulk's position.
"(Paulk's) leaving is nothing more than rearranging the deck chairs on the Titanic. It's a sinking proposition, the thinking that homosexuality can be changed through therapy." Said David Smith, spokesman for the national gay rights group Human Rights Campaign.